Introduction
Electricity consumer cells are an initiative by Citizen consumer and civic Action Group (CAG) in seven districts of Tamil Nadu namely, Tiruvallur, Cuddalore, Tirunelveli, Salem, Tiruvannamalai, Tiruchirapalli, and Vellore. Generally, all the seven Electricity Consumer Cells (ECCs) used to conduct physical outreach meetings twice in a month in their respective districts. These meetings were held to sensitise consumers about the ECCs and help them   by clarifying their queries related to electricity problems. Consumers register electricity related complaints with ECCs during the meetings. Based on the complaint, the ECC Advisors advise them about the procedures and/or resolve it by taking it up with the TANGEDCO officials. 
Since April, due to the COVID-19 pandemic situation, ECCs are unable to conduct outreach meetings physically in their respective districts. Alternatively, they reach out to electricity consumers through e-outreach meetings, which are conducted through  digital platforms like Google Meet, and Zoom.. 
Amidst COVID-19, ECCs conducted 24 e-outreach meetings between June and September 2020. 
Image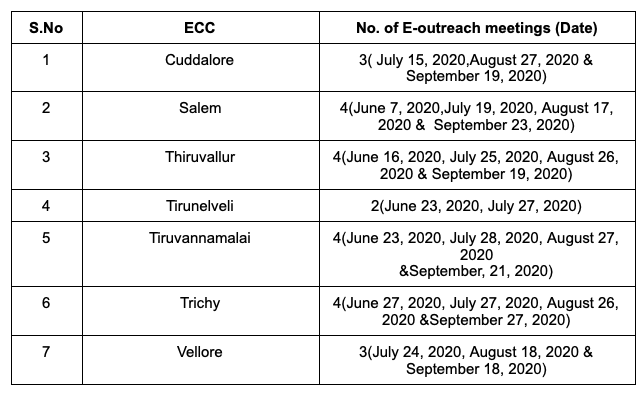 Table-1: No.of E-outreach meetings conducted with date
ECC coordinators explained the importance of conducting outreach meetings, which are to discuss the electricity-related issues and to create awareness on energy conservation, energy efficiency, and renewable energy. They explained how the ECCs are reaching the TANGEDCO officials for resolving consumer complaints during this pandemic situation. People from different consumer categories such as domestic, agricultural, commercial, participated in the meetings.
Image

Image 1 - E-outreach meeting conducted by ECC Salem 
The ECC engineers explained the necessity of conserving electricity. They explained in detail about  energy conservation and energy efficiency practices that can be adopted in our everyday life. Some of the energy conservative and efficiency tips discussed during the meetings are as follows:
Always switch OFF the appliances when not in use.

Switch to LED lights in case of using incandescent or CFL lights. LED lights are more energy efficient than the Incandescent or CFL lights.

Instead of pedestal fans, use ceiling fans as much as possible; both ceiling and pedestal fan consume almost same amount of power, but, comparatively,  the ceiling fan covers more area than the pedestal fan

Provide a minimum of 6 inches free space around the refrigerator and avoid placing the refrigerator close to any appliance that emits heat. 

Always unplug the appliances  or switch-off at the switch board after use. Appliances may continue to consume electricity if kept  in standby mode / switched off through a remote controller only.
Image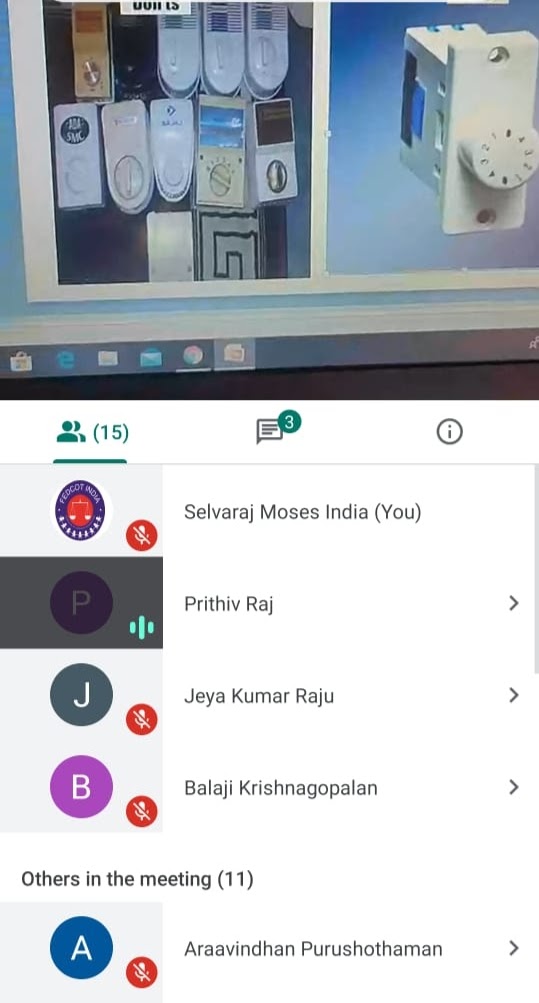 Image 2 - E-outreach meeting conducted by ECC Cuddalore 
They extended their presentation to explain about renewable energy such as solar. The solar developers who attended the meeting explained about the installation process of the solar panels in the premises. The below image represents the presentation made by a solar developer during the meeting.
Image
Image 3 - Presentation by solar Developer,ECC Salem 
The ECC Advisors, explained about the consumer complaints redressal mechanism. They also  spoke about some common issues like name transfer, how to get new agri connections etc. during these meetings. In addition, they also explained the electricity bill calculation during this lockdown period to the participants. They also shared some solved problems during this corona lockdown period.
Some of the queries raised by consumers during the E-Outreach meetings:
1. Query - Mr. X  raised an issue  about the change of temporary service to permanent supply for their house.  
Advise -  ECC Advisor advised him to give a written complaint letter to the TANGEDCO's section Office and pay the required deposit amount. 
2. Query - Mr. Y  enquired about the difference between the electricity charges with and without rooftop solar.
Advise - ECC Advisor explained about the billing procedure for Rooftop solar and differences thereof. 
3.Query - Ms. Z stated that she was building a new house and a EB line was passing too close to her house hence she asked the procedure for shifting of line.
Advise - ECC Advisor advised her to visit the respective section office and inform them. Then the respective officer will estimate the amount which should be paid in order to shift the line. After paying the amount, the cable/wire will be shifted within 30 days of time.
4. Query - Mr A complained that street lights in his area are not working properly.
Advise - ECC Advisor advised him to file a written complaint with his respective Panchayat office.
Conclusion
Due to the COVID-19 situation,   ECCs  changed their mode of reaching people for creating awareness, delivering advice, and solving their electricity related issues during this pandemic situation. This was a new experience for both CAG and ECCs  to get connected with the consumers through online platforms. This will continue throughout the pandemic and government advisory. 
Impact
This Covid-19 pandemic has presented some unprecedented challenges to mankind all over the world. Yet there will be always some new ways to overcome this kind of unprecedented situation. The above mentioned E-outreach meeting, TV and Newspaper advertisement, Handbill distribution and social media campaign are the new ways followed by the ECCs to get in touch with the beloved electricity consumers. 
A total of about 485 complaints have been received from the consumers and have been resolved from the period of May 2020 to September 2020. These are not just numbers but a timely help for the 485 electricity consumers. The table below will identify the complaints received through the different sources.
Conclusion 
All the ECCs, has started adapting to the new normal and started doing so after a few days of this global pandemic. Outreach meetings become E-outreach meetings. Collected complaints through different modes of advertisement. Social media posters to create awareness among consumers. This pandemic has taught both ECC and CAG one thing for sure that is  to get connected to electricity consumers online. This will continue throughout the pandemic and government advisory.