Modern life is so separated from the source of food that we hardly know what we put into our bodies. Not only do we live far from farmlands, that we have lost our ancient connection to the soil, but the foods that we now eat are processed in so many ways that much of its resemblance to the original ingredients is lost. Labels then are the only way of identifying ingredients and obtaining  information on what we eat. Food labels tell us what has gone into what we eat and whether it is safe for consumption.
The labelling, display and advertising of food products in India is regulated by the Food Safety and Standards Act, 2011 and 2018. This article will help you read a food label easily and make informed decisions about what you eat. Any food label should have mandatory information such as 
logos for vegetarian/non-vegetarian food

manufacture date and expiry date (best before date, if the shelf life of the product is less than one week) 

maximum retail price (MRP) 

information about the manufacturer

caution/ advice for consumers 
FSSAI Logo
FSSAI - Food License
All food products should have a licence number issued by
Food Safety and Standards Authority of India (FSSAI)
. This is a mandatory requirement and this is the symbol to look for.
Ingredients
Look carefully to see if the list of ingredients is what you would normally use. It helps us to know what food items are included in the food product. In this example - wheat flour, water, breadcrumbs, salt, black pepper and so on are listed. It also says that sausage skins are made using pork. While some people may not eat pork, there may be others who are allergic to gluten. In addition, look for the vegetarian and non-vegetarian logos on food products.  
Avoid or limit food which has sugar components like dextrose, corn syrup, invert sugar, malt syrup, fructose, etc.;

Avoid or limit food which has salt components like sodium, sodium nitrates and nitrites, etc.;

Avoid artificial colours, food additives and preservatives 

1

;

Check for food allergens in food.

​
​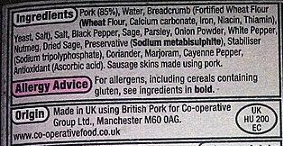 Logos for Vegetarian and Non-Vegetarian food
Nutritional facts, Servings and Calories
Choosing food items according to
their dietary character is important. Carbohydrates, proteins, dietary
fibres
, fats, sugar, v
itamins and minerals in appropriate proportions make a healthy diet.
Serving size indicates how much of the food can be consumed in one meal at once and if the food package serves one or many. In this example, 1 serving size is 1 cup.

Calorie count is mentioned per serving and the calories needed per person will vary with different factors like age, gender, weight, activity level, health condition, etc

3

. In this example, the consumer will gain 250 calories, of which 110 is from fats, from one serving. 

Stay away from unhealthy fats like trans fats, saturated fats (3 grams each in this example), and partially hydrogenated oils. 

It is preferable to select food products that contain good fats, like MUFA (Mono-Unsaturated Fatty Acid), PUFA (Poly-Unsaturated Fatty Acid), Omega 3-rich. (none in this example). 

In this example, the consumer will get 31 grams of carbohydrates from one serving. Dietary fibres and sugars are also sources of carbohydrates and are included in this number. Dietary fibres do not increase our blood sugar - so a higher value in this is better than a higher value in sugars.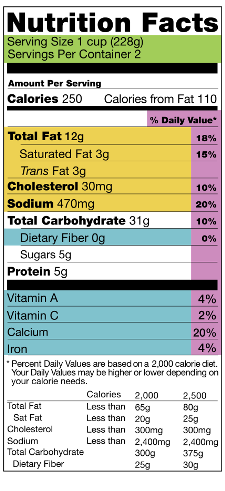 Trans fat free logo
Artificial trans fat is produced by an industrial process called partial hydrogenation of vegetable oil. Intake of trans fat causes cardiovascular disease, stroke, hypertension, liver and kidney failure, etc. Food Safety and Standards (Advertising and Claims) Regulations, 2018 states that food businesses can claim food to be  trans fat free if it has less than 0.2 g trans fat per 100 g or 100ml of food. FSSAI recommends to have a voluntary 'trans fat free' logo for such foods.  Mention of .5g, 1g, etc of trans fat in the food label indicates the presence of high levels of trans fat
2
.  
It is important to check the manufacturing/ expiry date and/or best before date. Sometimes, old stock is pushed to the front and new stock is placed at the back. In a hurry, we miss to read the label and consume expired products unknowingly which could lead to health issues. This can be avoided by reading the label 4 .
Best before/MFG date information
MRP: Checking the cost of food products irrespective of their brand is necessary to spend our money wisely. 
Food Certification Mark
Food
certification-mark helps us to entrust the quality of the food as it shows that the manufacturer has complied with  Indian regulations. The following are the most common ones used in India. 
Fruit Products Order (FPO) is a mandatory certification mark for processed fruit products like fruit jams, beverages, squashes, pickles, dehydrated fruits, fruit extracts, etc. The Ministry of Food Processing Industries develops the standards and issues the FPO.  
FPO Logo
Agmark is a certification mark for agricultural products. Around 222 diverse commodities areunder agmark guidelines. Pulses, cereals, edible or vegetable oil, etc. Agmark is not a mandatory requirement and food labels having this logo are graded and marked by the Directorate of Marketing and Inspection, Ministry of Agriculture and Farmers Welfare. 
AGMARK Logo
India Organic is a certification mark for organically produced farm products. It ensures that the raw materials used are organically produced without the use of chemical fertilizers, pesticides or plant hormones. This is voluntary and is issued by Agricultural and Processed Food Products Export Development Authority (APEDA) under National Program for organic production of Government of India. 
India Organic Logo
Additional information for Consumer
Additional nutritional information may be provided in the form of Barcode/Global Trade Identification Number (GTIN)

2

. 

On occasion of witnessing improper packaging, sale of expired product, no manufacturer address in the food label, etc, consumers can contact FSSAI through an online platform called '

Food Safety Connect

' and register their complaints. They can also register complaints with the food safety officers in their respective states. Tamil Nadu Food Safety Department has published a whatsapp number -

94440 42322 for complaints. 

Consumers can contact the Department of Consumer Affairs at the Centre through the

National Consumer Helpline

. In states, consumers may contact the State Helpline. For Tamil Nadu, the State Helpline number is 044-28592828 

Consumers can also

contact

the Controller of the Department of Legal Metrology in each state and register complaints under Legal Metrology (Packaged Commodities) Rule 2011.

Consumers may also approach a registered consumer organisation for assistance 
We come across instances where consumers fail to read the label and end up buying products without proper labels, at a higher price and/ or expired ones. As consumers, it is important for us to verify labels for necessary information before buying food products as it has a direct impact on our health.