Edition
Edition: January - April 2021
Electricity Consumers Cells (ECCs) is an initiative of CAG, started in November 2016 with the purpose of empowering consumers to improve their participation in the governance of the electricity sector in Tamil Nadu. So far, seven Electricity Consumer Cells (ECCs) have been set up in seven districts in Tamil Nadu. ECCs began functioning in December 2016 in the three districts of Tiruvallur, Cuddalore, and Tirunelveli. In 2018, two more ECCs were set up in the districts of Salem and Tiruvannamalai. In 2019, ECCs in Vellore and Trichy were added.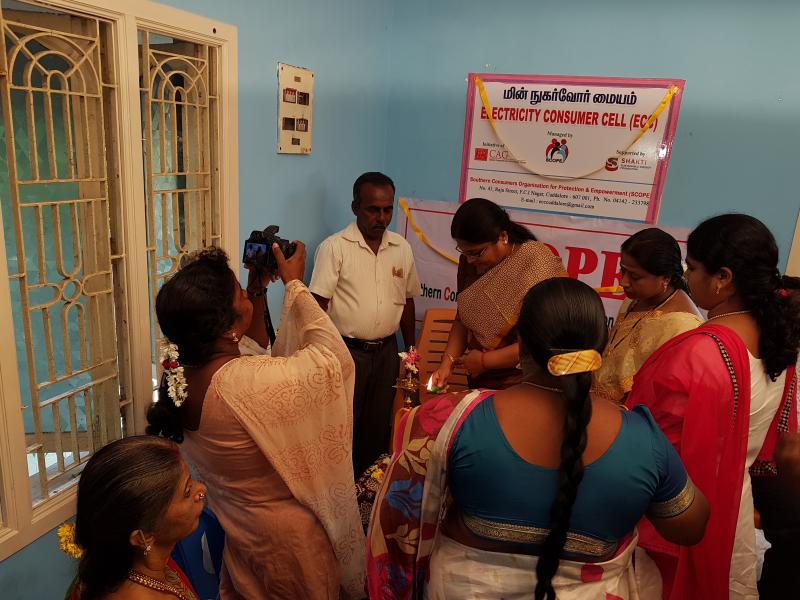 File Pic: Inauguration of Electricity Consumer Cell in Cuddalore.
Key activities of the ECCs include:
extending advisory services to consumers on electricity issues
providing support to electricity consumers in reaching out to concerned department/officials of Tamil Nadu Generation and Distribution Company (TANGEDCO)
creating awareness among electricity consumers through outreach meetings
empowering civil society organisations (CSOs) through capacity building programmes, e) promoting renewable energy i.e. rooftop solar among residential households and solar agricultural pump sets among the farmers
encouraging consumers to adopt energy efficiency and conservation measures
increasing awareness around renewable energy, energy efficiency and conservation across schools and colleges. 
Between March 2020 - December 2020, ECCs were unable to carry out their regular activities owing to severe concerns around the COVID-19 pandemic. In keeping with the COVID - 19 health regulations and restrictions of the nation-wide lockdown, ECC activities were realigned with a focus on solving electricity grievances among consumers - especially of growing concerns around unusually high bills during the lockdown period. During this period, ECCs adopted a media-centric approach to reaching electricity consumers across the state. Print, television and social media platforms were utilised to create awareness around energy conservation and energy efficiency. Additionally, handbills were distributed among residential consumers to disseminate information around electricity grievances. School students were also engaged with, through online quiz competitions on the themes - renewable energy,energy efficiency and energy conservation. Most other efforts of ECCs during this period were successfully migrated to virtual platforms. Such efforts include social media campaigns and e-outreach meetings (conducted via google meet)
Advisory Services: Between December 2019 and December 2020, 1070 complaints were registered, out of which 69% were from men and 31% from women. It was observed that an average of 10 complaints were being registered per month. This includes complaints registered in person and over the phone. During this period, 78.50% of the complaints received have been resolved and 21.50% of the complaints have been closed as unresolved due to the nature of the complaint - either because it pertains to high-value, infrastructure or because they were area-level complaints, involving multi departmental decisions and therefore requiring more time. 
 
| | | | | |
| --- | --- | --- | --- | --- |
| Sl.no  | Status | Resolved | Closed | Total |
| 1 | Tiruvallur | 135 | 31 | 166 |
| 2 | Cuddalore | 149 | 30 | 179 |
| 3 | Tirunelveli | 111 | 36 | 147 |
| 4 | Tiruvannamalai | 135 | 40 | 175 |
| 5 | Salem | 92 | 26 | 118 |
| 6 | Vellore | 103 | 38 | 141 |
| 7 | Trichy | 115 | 29 | 144 |
| | Total | 840 | 230 | 1070 |
(Fig.1.Complaints Success Ratio (December 2019 - December 2020)
Nature of the complaints :
The nature of complaints registered between December 2019 and December 2020 have been listed below: 
320 power quality related - power supply failure, interruption of supply, voltage and frequency
270 service related - new service connection, agriculture connection, temporary supply & shifting of supply
223 infrastructure related - low tension & high tension wires, poles, transformer, street lights
125 billing related - billing problem, name transfer, change of tariff, assessor dates
71 meter related - meter fault, meter reading
61 miscellaneous complaints - street lights etc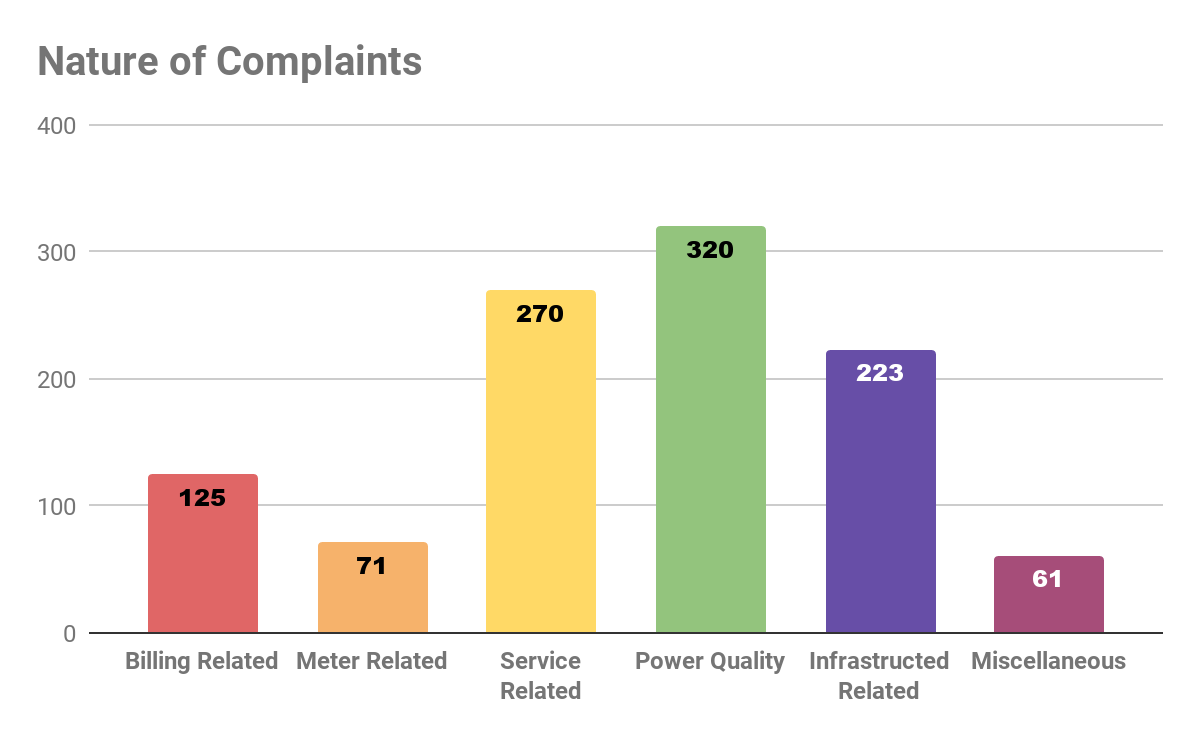 Figure 2: Nature of Complaints
Examples of Advisory Services:
Mr. A, a domestic consumer from Ponneri, Tiruvallur district, registered a complaint with ECC Tiruvallur about a broken street light pole. The broken street light pole fell on the side of the road causing inconvenience to commuters and pedestrians. ECC advised Mr.A to register complaints with both the local body and Ponneri Town section office. The ECC also contacted the Junior Engineer(JE) to solve the problem. Based on the complaint, the JE and the TANGEDCO officials inspected the site and replaced the broken pole immediately. 
Mr.B, a domestic consumer in Parangipettai,Cuddalore district, was facing frequent power cuts during night time. Mr.B. had already registered the complaint with the fuse-off call centers (a customer care centre on phone number 1912, especially for power interruptions and failure) but the complaint was not addressed. The ECC Advisor took up the complaint and contacted the Assistant Engineer (AE) in the local TANGEDCO office. The Assistant Engineer checked the electric pole wire and transformer wire leading to Mr.B's residence and found the wires loosely connected. This was then rectified which corrected the power supply quality in the area to the satisfaction of the consumer. 
Mr.C, a domestic consumer from Tiruvannamalai, enquired with ECC Tiruvannamalai on the procedure for shifting of an electricity service connection. ECC Advisor advised Mr.C to submit the requisite form along with the required documents and a fee to the concerned Assistant Engineer in their local EB office. The ECC Advisor followed up with the local EB office and the service connection was shifted successfully.  
Mode of Complaints:
Between December 2019 and December 2020, 968 consumers contacted ECCs over the phone to register their complaint. Major complaints registered with the ECCs were received through advertisements published in the newspapers, television advertisements, handbill distributions and e-outreach meetings. In addition,102 consumers met the ECC representatives in person and registered their complaints. 
Consumer interactions with ECCs:
Between December 2019 - March 2020, ECCs conducted 30 outreach meetings in various parts of the districts. These meetings aimed to educate consumers on electricity rights and create awareness on renewable energy, especially rooftop solar and solar agriculture pumpsets. However, due to the epidemic, ECCs were forced to hold virtual meetings. E-outreach meetings were conducted through online platforms such as zoom and google meet. A total of 49 e-outreach meetings were conducted between June 2020 - December 2020. This has helped several consumers to solve their grievances easily in spite of the pandemic situation. 
These  online meetings also created awareness about the importance of energy efficiency and energy saving which were the need of the hour. In response, consumers who attended the online meetings provided positive feedback that they found the advice useful, especially as families spent a lot more time at home over the lockdown period. For example, most of them were at home, their electricity bills were huge compared with the previous billing cycle. The tips provided through the online meetings helped them to reduce their electricity bills significantly. Participants who attended these programmes included retired government employees, self help group women, teachers association, small scale traders association and other domestic consumers. 
Advertisements about ECC activities:
Throughout the lockdown period (May - December 2020), ECC work was advertised through television, newspaper and handbill distributions. Advertisements were organised on a monthly basis targeting consumers from different areas.   Advertisements in prominent newspapers. Scrolling advertisements were run in local television channels. Additionally,  printed handbills were placed inside newspapers in select areas within ECC districts.   Advertisements carried  information about the ECC's functions, objectives and the contact details. As a result of the advertising, ECCs were able to reach a large number of people, estimated at over 100,000, in the last few months. Following the advertising, we also noticed a spike in the number of those calling with grievances.
 
Online quiz competition on Electricity Governance, Energy Efficiency, and Renewable Energy for school students:
A total of 5300 students participated in the online quiz competition, organised by the ECCs for grades 6 - 12 in 7 ECC Districts. These quiz competitions were conducted to introduce the basics of electricity governance to young children in a fun yet informative manner. Despite their regular online classes, students were enthusiastic about attending the quiz competition. Most students got a score of over 50% in the quiz.  Encouraged by the participation in the June & July 2020 quizzes, ECCs extended the online quizzes until the end of December. A certificate of participation was issued to all students to mark  their successful participation in the contest.
Whatsapp campaign:
During the pandemic, ECCs ran  social media campaigns on electricity related issues, tips on energy efficiency, energy conservation and renewable energy.  These posters were distributed among  civil society organisations working  with ECCs through "Whatsapp groups". We anticipate that we have reached a  minimum of 600 consumers across the 7 districts through such material.  
Outcome:
Despite the lockdown, ECCs has continued its work  on the ground with consumers to help redress  their grievances. TANGEDCO officials have also played their part,  lending extraordinary support in addressing the grievances. During the lockdown, ECCs also took the opportunity to reach consumers through different media. We have found several of these methods successful and will now employ on a more regular basis.