Citizen consumer and civic Action Group (CAG), in association with the Electricity Consumer Cell - Tirunelveli, organized a webinar on energy efficiency & electrical safety on June 22, 2021 via Zoom platform. This session was attended by over 50 electricity consumers from the Tirunelveli district.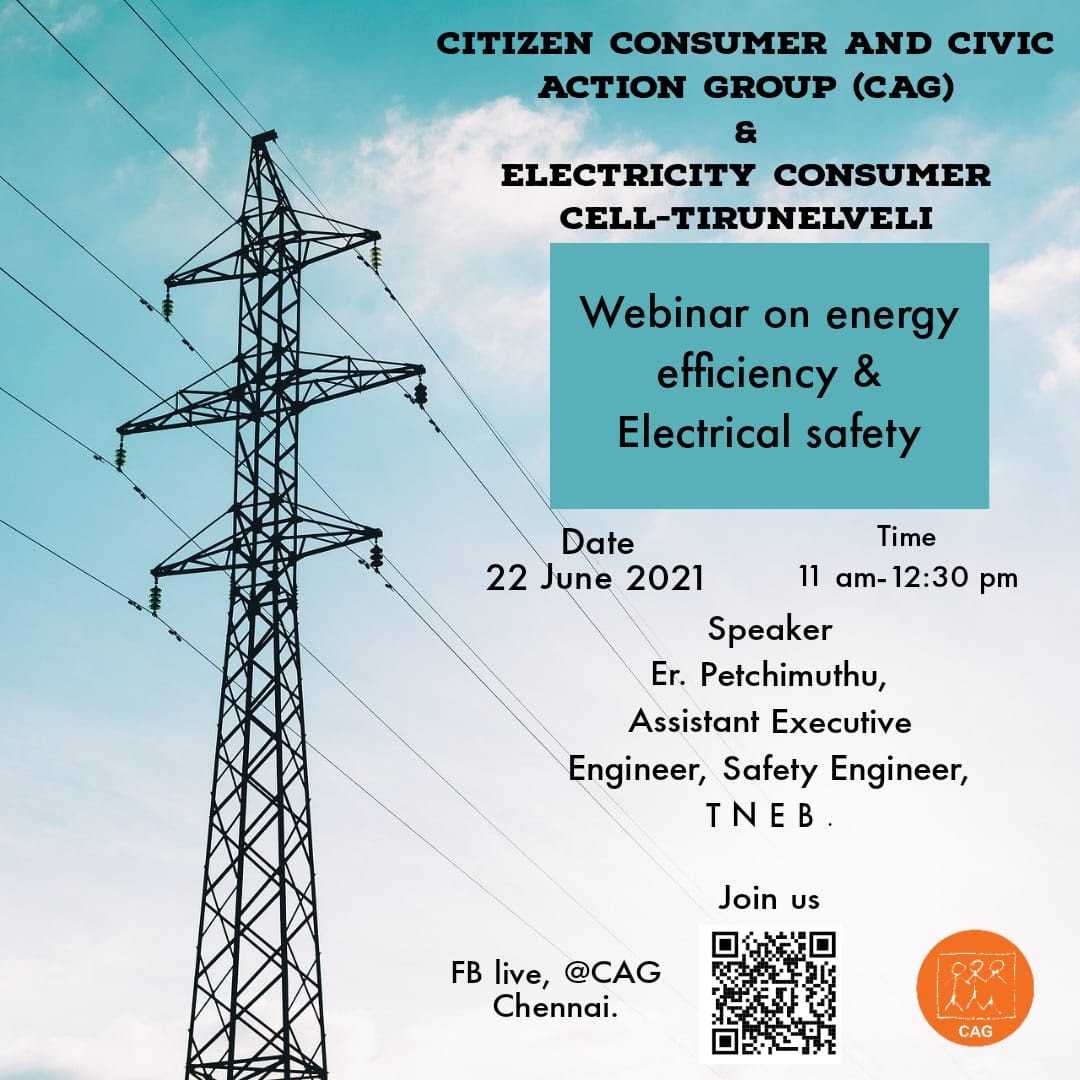 Dr.Ganapathy Subramaniam, Coordinator - ECC Tirunelveli presented a brief introduction about the Tirunelveli Electricity Consumer Cell, the nature of work carried out by them and the range of electricity issues handled.
Following the introduction, Mr.Shanmugam, Advisor - ECC Tirunelveli welcomed the participants of the webinar and introduced the chief guest of the session, Mrs.Siva Sathiya Valli, Head of Tirunelveli Government Museum. Mrs. Siva Sathiya, took the opportunity to deliver a special welcome address and brought to focus the significance of electricity and the need to take active measures to ensure electrical safety.
Subsequently, Mr.Balaji, Researcher, CAG introduced CAG and its work across different sectors. He also provided  an overview of CAG's Electricity Consumer Cells initiative run in seven districts of Tamil Nadu - Tiruvallur, Cuddalore, Tirunelveli, Salem, Tiruvannamalai, Tiruchirapalli and Vellore.
Er.Petchimuthu,Assistant Executive Engineer (Safety), TANGEDCO, the key speaker of the webinar, made his  presentation on electricity, its significance, the level of dependency we have on it and the importance of electrical safety. He began by explaining how electrical accidents occur and cautioned his listeners that damaged wires or contacting electrical wires which are connected to the electricity supply have a high probability of causing electrical accidents. He stated that a dry human body is 1,00,000 Ohms resistant to electricity and that if the human body is subjected to over 80 milli Ampere of current it would be a cause of fatality. He shed light on electrical accidents that occured during 2020-2021 and advised electricity consumers to strictly follow the below best practices:
Use electrical wires and wiring connections that are  ISI certified. 

Engage an electrician who is licensed by Govt of Tamil Nadu to do household wiring.

Install earth leakage circuit breaker near the electricity meter in the premises to avoid electrical accidents.

Ensure that the switch is in OFF condition, before inserting a plug into the socket.

Use heavy appliances like Refrigerator, Grinder, Motor, Iron Box with three-pin sockets. No connection should be given to the plug point without a socket.

Consider avoiding usage of immersion type water heaters since it is among the leading cause for electrocution. 

Place the electricity meter where there are no leakages and ensure that the meter is  easy to access for assessment/taking meter readings. . 

Surround iron pipes which are used to support electrical wires with PVC pipes for  insulation. 

Do not overload an electrical socket by connecting more than one appliance to it. 

Do not dry clothes or tie animals to an electric pole or  supporting fixtures. 

Avoid  constructing buildings  near or under hanging electrical wires 

Be sure to get  proper approval from TANGEDCO before cutting down branches of trees near electrical wires. 

Avoid tying decoration lights  to trees or iron gates.. 

Do not stand under trees or electric poles or empty land when lightning and thunder strikes.

Avoid electrical usage in areas which show signs of stagnant/leaking water.
He concluded the presentation by sharing anecdotes to support his advice on what an average electricity consumer should and shouldn't do. He further guided the participants on what consumers should do if  they are  affected by electrical accidents. He also shared TANGEDCO's fuse-off call number (1912) and Minnagam's customer care number ( 94987 94987) with the participants. 
Mr. Muthusamy, Junior Consultant, ECC Tirunelveli concluded the webinar with a Vote of Thanks.