Edition
January - March 2022
Digital finance has become a part of everyday life. It eases a range of day-to-day activities like bill payments,  shopping and accessing other  financial services.  While the current share of those accessing online digital services from urban and semi-urban communities is already massive, we anticipate further growth in the coming years. According to the World Bank database, the number of people (just in developing countries) who use online banking for money transactions has increased from 57% in 2014 to 70% in 2017. Another recent study says that the absolute number of online financial services users will surpass 3.6 billion by 2024, up from 2.4 billion in 2020; a 54% increase. It says that these developments will be driven by the increased number of popular digital banks. 
At the same time, accessibility to digital financial services remains a challenge in rural and remote localities. The huge urban - rural divide, lack of digital financial education, not having smart phones, gender disparity and poor data/ network connectivity are some of the reasons for this. But India is determined to take digital financial services to every nook and corner of the country, as was evident from Finance Minister Nirmala Sitharaman's  budget speech.  
While it's undeniable that digital financial services have recast the financial scenario across the world, equally undeniable is the fact that it has grown to pose  serious threats to consumers through fraud, phishing, data misuse and privacy breaching. If we are to keep this space free from the criminal minded and thus safe for users, we need robust protection technologies, swift redressal mechanisms and vigilant consumers. 
The theme of 'Fair Digital Finance' to mark World Consumer Rights Day was therefore both timely and relevant. 
In order to understand consumers' perspective and experience of digital financial services, CAG conducted a  study of more than 3500 general consumers across thirty  districts in TamilNadu viz. Mayiladuthurai, Theni, Dindigul, Tiruppur, Thiruvanamalai, Thiruvarur, Nagapattinam, Vellore, Coimbatore, Salem, Erode, Namakkal, Cuddalore, Kancheepuram, Thiruvallur, Tirunelveli, Nilgiris, Sivagangai, Thirupattur, Madurai, Karur, Pudukotai, Ramanathapuram, Thanjavur, Villupuram, Krishnagiri,  Dharmapuri, Ranipet,  Chengalpattu and Chennai. The study focused on: 1) Inclusivity 2) Data Protection 3) Safety and Sustainability.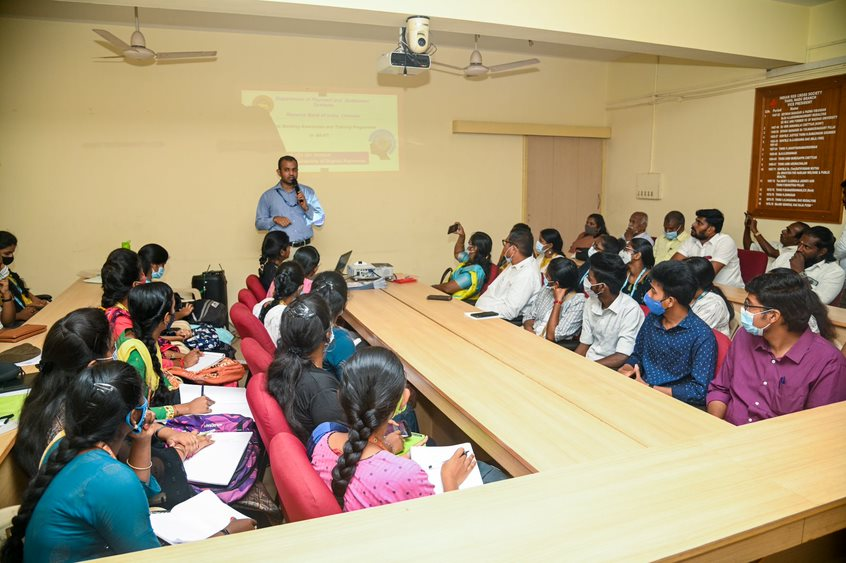 Mr.Vinodh Rajkumar, RBI, addressing the audience on digital safety
Our study shows that  as many as one-third of the respondents have had bad experiences with customer care services while trying to have their digital financial service concerns addressed. This included concerns around UPI payments, e-com applications and banking platforms.  The respondents reported receiving inadequate, unhelpful responses; several reported only ever being heard by  Interactive Voice Response Systems  (IVRS - a way for the bank or any digital financial services to communicate with a consumer, using a  list of pre-generated complaints, which typically do not  fully understand or resolve the actual issue). The other important finding was  that nearly half of the respondents (47%) were  not approaching customer care for grievance redressal which indicates either a reluctance to engage with the system or a low awareness about the redressal mechanisms available. Yet another notable finding was that more than half the respondents  (51%) did not know that taking help from third parties (this includes taking help from friends or family or strangers to access digital financial services on one's behalf) is not safe.
A few other key findings of the study are given below:
60 % of the audited consumers use digital financial services. 

Those that did not use online financial services attributed it to not being internet savvy, preference to visit a physical bank, unavailability of a smartphone, a lack of trust or a suspicion that these are not safe, and illiteracy. 

49% of the consumers reported  using digital financial services for at least two years. . 

Net banking, bank cards, UPI platforms, bank apps and digital wallets were found to be the major digital banking services accessed. . 

Of these,  Google Pay, Phone Pe, and Paytm were the most  popular UPI platforms. 

Most of the consumers in the study reported that  using UPI made bill payments, online money transfers and e-commerce both quick and easy. 

52 % of those assessed reported having faced problems while accessing digital banking services. Poor or no server connection, delays in refund or failure to refund and double transactions were reported as the most frequently encountered problems.
Following the study,  CAG organised a Consumer Guidance Seminar on Digital Financial Services on the 17th of March, 2022. Civil society organisations and general consumers across Tamil Nadu along with students and faculties of two Chennai colleges participated in the event.  Keeping the theme of safe online transactions central to the event, Mr. Vinodh Rajkumar from the Reserve Bank of India (RBI) elaborated on the different payment methods, explaining how systems like the UPI is one of the biggest networks in the world. 'They are meant to make our lives easier and the RBI goes to great lengths to ensure that the systems it regulates are safe to use. However, we need vigilant consumers' he said. 'We have redressal mechanisms in place, but these will not apply if the customer has shared his PIN or OTP'. 
Ms. Anubhutie Singh, Dvara Research who spoke on accessibility, said that as per a survey conducted by Dvara Research, only 34% of women use smartphones in India whereas it is 55% with men, which clearly shows the disparity in usage.  She said that RBI has come up with new techniques to address the gap in digital finance by including SMS option in feature phones to make digital payments to everyone in India. Ms. Singh went on to  emphasise the need for safe digital transactions. 'A nation like India that is committed to creating successful and extensive digital ecosystems that revolutionise our economy cannot afford to have large segments of its population apprehensive of using digital services. When financially fragile individuals are burnt even once by these scams, they don't want to try accessing digital services ever again' she said, narrating the story of a small-time vendor who had lost money to a scammer. 'We need to keep these human touch points in mind when developing policies', she added.
Mr Yogesh Sapkale, from Moneylife Foundation, explained about how the KYC details, shared by consumers, were often misused and emphasised on the need for a centralised KYC process that could be monitored in a better manner. He also spoke about the available  grievance  redressal mechanisms in detail. He warned against posting personal information on social media as 'scammers can easily glean information from this that we had never intended to share'. The lively discussion that followed was an opportunity for participants to ask questions both from their personal experiences and also about existing policies.
The event brought together experts and consumers for an afternoon of knowledge sharing, aimed at keeping the user safe in the digital space. The event also emphasised the need for equitable digital financial services across the nation, cutting across geographical and income boundaries. This would need consumer associations, government agencies, financial institutions, industry and civil society organisations to work together consistently, to create a fair, safe and sustainable marketplace for all.
CAG invited to WCRD 2022 celebrations organised by the Ministry of Consumer Affairs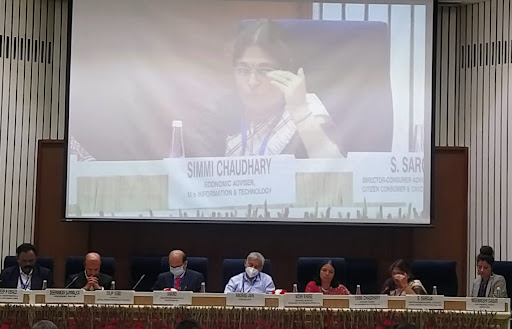 The panel brought together by the Ministry of Consumer Affairs, discussing 'Fair Digital Finance'
As part of the WCRD 2022 celebrations organised by the Ministry of Consumer Affairs, on the 15th March 2022.   S. Saroja, CAG was invited as a panellist to a session on  'Fair Digital Finance'. She used the opportunity to stress the importance of consumer organisations  being part of the advisory committee/ regulatory body, explaining that this would go a long way to representing consumer grievances effectively. She also insisted on the need for effective redressal mechanisms in order to protect consumers' interest in the digital space. 
India's access to digital financial services is poised to grow, revolutionise lifestyles and create more equitable access to services - now is therefore the time to work towards 'Fair Digital Finances'.