Residing in an Indian metro, not a single day passes without encountering delivery staff on their rounds, delivering everything from food to electronics. E-commerce companies, both Indian and foreign, have their delivery staff zip through our streets from morning until midnight. But a few decades ago, the only delivery staff that the urban Indian populace was used to was the khaki-clad 'postman' (replaced with the gender-neutral 'post person' in August 2018 on recommendations from the Parliamentary Standing Committee on Information Technology).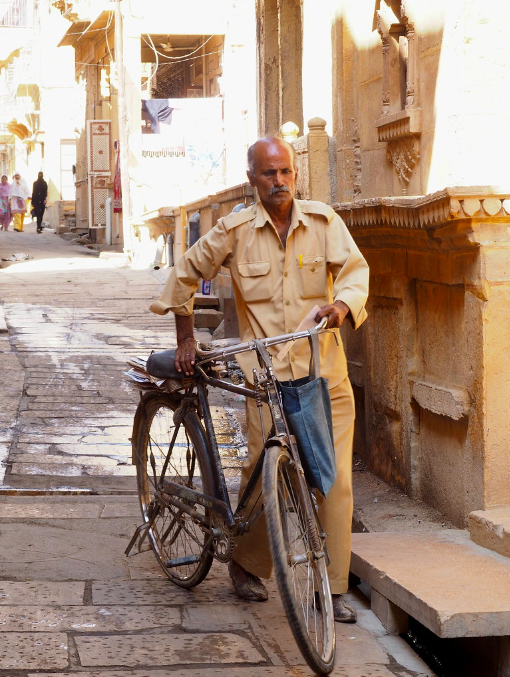 Photo courtesy: Owen Young, Flickr
On an average day, postal staff from India Post's 1.56 lakh post offices cross lakhs of kilometres on foot, bicycles, and motorised two wheelers delivering mails, parcels, and disbursing pensions. With 4.14 lakh staff delivering 5.1 billion pieces of mail in a year, India Post is the largest postal network in the world. With the private players in the logistics sector talking big about shifting to sustainable delivery systems, what is the country's oldest logistics outfit doing to be sustainable?
Official policy that supports NMT?
Around the world, sustainability is becoming a key factor when policies are developed. For example, the International Postal Corporation (IPC), a cooperative association of national postal services of 25 developed nations has a Sustainability Measurement and Management System (SMMS) implemented to systematically reduce carbon emissions from the postal sector in the coming decade. This system explicitly intends to reduce carbon emissions by 20% from the postal sector through a combination of steps like shift to non-motorised last mile delivery methods,  using electric vehicles for deliveries and making warehouses and sorting centres of the postal services energy efficient. This is an intentional policy made to reduce carbon emissions. 
India Post, on the other hand, does not have an official policy that promotes sustainable modes of last mile delivery. Nevertheless, its last mile delivery operations have been largely sustainable, as an overwhelming majority of its staff walk and cycle to make deliveries. This is an unintentional gain for the environment. This dependence on NMT is likely due to historical reasons. When India Post started operations in the mid 1800s,  these were the only last mile delivery options available. It appears that India Post has merely continued with it, without updating to motorised means of last mile delivery. 
At some point in India Post's history, a bicycle maintenance allowance was given to postmen and this, according to the RTI reply CAG received, has been periodically revised. The last revision was done by the 7th Central Pay Commission and brought this allowance to Rs 180 per month in 2017. In 2019, this allowance was also extended to rural areas, which were serviced by Gramin Dak Sevak (rural part-time postal staff). While there has been a clear effort to revise the allowance in keeping with market costs and inflation, we were unable to find any evidence that the choice of the bicycle itself was based on a policy of sustainability.
To motor or not to motor
Considering the aspirational goals of most citizens is to buy a two-wheeler and then perhaps a car, we wondered if postal staff too had shifted to fossil fuel based vehicles. While RTIs to India Post offices in Chennai informed us that all their post persons use bicycles, we also spoke informally to a 27-year veteran post person in the Chennai City Region. He pointed out, "A postal worker in a metropolitan city can expect to travel 20-25 kms on an average working day. They can expect to cover 500 houses in a single working day, out of which they may have to knock on 150 houses for deliveries". It is not surprising then, that some of his peers have switched to using their personal motorcycles (easily purchased through private loans).
The question now to ask is this - in the absence of an effective policy that promotes and nurtures sustainability and actively encourages its staff to abide by these, are we looking at an inevitable migration of postal workers to more convenient modes of transport? Is it then time for India Post to actively frame a policy on this issue? Considering 14% of energy-related CO2 emissions in India comes from transport and 87% of this comes from road transport, we believe it is time.
Way forward
Frame a policy!
With communications systems having changed dramatically since India Post's inception, it is past time that the institution developed and implemented a sustainability policy. Bringing sustainability in their delivery mechanism is one part of it, but an overall assessment of systems would no doubt be equally important. Existing global examples like the above mentioned International Postal Corporation's (IPC), Sustainability Measurement and Management System (SMMS) tool could give useful pointers.
Incentivise sustainable deliveries
India Post must incentivise and reward postal staff who still use NMT to deliver mail. This could be in the form of 'green allowances' appreciating their efforts with monetary incentives for contributing towards the environment. 
Go EV
India Post could also look into transforming their entire bulk mail carrier fleets into electric and if possible look for options, where older postal workers who are unable to walk and cycle to opt for electric scooters or motorcycles to deliver mail.