Consumers are all too familiar with the frequent power cuts - both from personal experience and from the many newspaper reports on this. Tamil Nadu is witnessing unpredictable severe heatwaves and variations in rainfall patterns. Changing weather patterns, while accelerating the already rising demand for electricity, also increases the frequency of power outages.
So, what is a power outage and why is it caused?
An interruption in electricity supply to the end users is called a power outage or power cut. The power interruption/cut/outage can be short or long-term depending on the reason behind it.  
Common reasons behind outages:
Planned maintenance

Equipment(s) or technical failure 

Grid overload/ high energy demand

Weather and weather-related disasters 

Trees falling on overhead electricity lines or poles

Human error or wildlife interference 
A power cut can be planned (scheduled) or unplanned (unscheduled). A planned outage is a deliberate power shutdown by the electricity authorities or distribution company for regular maintenance of the electricity transmission system or its components. Outages caused by all the other reasons mentioned above are unplanned outages.
Why should consumers be warned of power outages? 
Electricity is a basic need and all our modern-day activities in one way or another depend on access to electricity. Hence, a power outage implies a disturbance or block to one, some or many of these activities. Along with this, the absence of electricity supply is also a safety concern and comfort issue.  Quick communication and timely alerts to consumers about power cuts help them to stay informed, make decisions accordingly, and plan their work and safety.
How are consumers informed about planned outages?
Tamil Nadu Generation and Distribution Corporation Limited (TANGEDCO) sends SMS alerts to registered mobile numbers to inform them of any planned outages/shutdowns in the neighbourhood. To do this, TANGEDCO first updates details of the outage on Urja Mitra - the union government's portal for power outage information dissemination, which then automatically sends out the SMS to consumers.
Other than this, area-wise power updates of Tamil Nadu are available on the official website and social media pages of TANGEDCO. 
Other authentic information dissemination modes:
Consumers can access the Urja Mitra portal, to get information regarding local power cuts. The facility of Urja Mitra outage alerts can be utilised by registering through the official portal and mobile app. 

Outage alerts are published in

newspapers

to disseminate information to the readers.
No SMS received? What next?
An early-hour power cut could indicate a planned maintenance shutdown. When an outage during the morning that lasts for hours happens in your area, about which you did not receive an SMS alert, check the official online sources or that day's newspaper for information.
If the outage information is mentioned on the websites/social media/newspaper, then the issue might be with the SMS channel. If no resident from your neighbourhood received the SMS, raise the issue with TANGEDCO to get it resolved.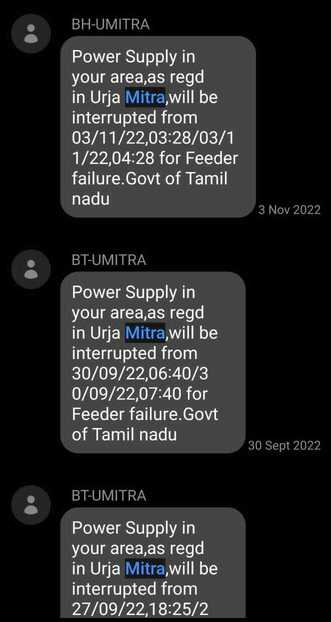 Urja Mitra's Outage alert SMS
Unplanned/prolonged power failure issues - how to get it resolved?  
Tamil Nadu Generation and Distribution Corporation Limited (TANGEDCO) must inform its consumers in advance about its planned outages. If no authorised details or alerts are given regarding a power cut, consumers may consider that power failure as an unplanned outage. 
Even in case of unplanned outages, according to the Electricity (Rights of Consumers) Rules, 2020, it is the duty of the distribution licensee to communicate immediately to the consumers about the outage and the estimated time to restore it. In accordance with the rules, TANGEDCO is obliged to monitor and restore outages in Tamil Nadu. Its timeline for the supply restoration period for rural and urban areas is tabulated below: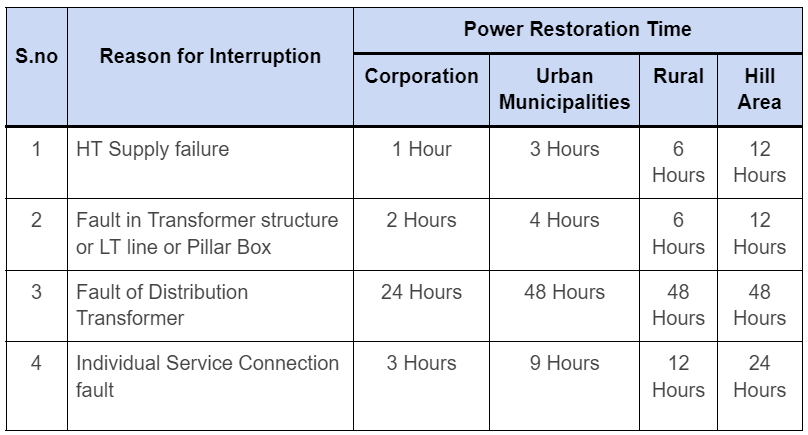 Source: TANGEDCO
In case of a prolonged power outage, consumers can raise complaints to TANGEDCO through any of the following mechanisms and get it resolved. 
Inform your area Assistant Engineer/ Operation & Maintenance of TANGEDCO using the region-wise contact information available on the official portal or their local contact number. If no response is received, visit the EB office to file a complaint directly.

Call the FOC (Fuse Of Call Centre) of your area, details of which are available on the website. 
The 'contact information' section of the TANGEDCO website can be accessed here - https://www.tangedco.org/en/tangedco/reach-us/contact-information/ 
File the grievance online through the official portal -

www.tangedco.org

. The provision for complaint registration is available under the

'Reach Us'

menu of the website.

Contact the centralised 24x7 call centre -

Minnagam

on the helpline number 94987 94987.
As specified in Clause 21 of the Tamil Nadu Electricity Distribution Standards of Performance Regulations (TN-DSOP) 2004, if the distribution licensee does not restore the power supply within the stipulated period, it is liable to pay the affected consumers compensation of  Rs.50/- for every six hours (or part thereof) of delay in restoration of supply subject to a maximum of Rs.2000/-.
All it needs is awareness and action:
As a responsible consumer, be aware of 
the Electricity Board's (EB) emergency contact numbers and 

the consumer phone numbers that are registered for your electricity service connection with TANGEDCO. 

Be mindful that TANGEDO sends alerts about outages/shutdowns/bills etc. only to registered mobile numbers. 

To confirm the registered mobile number for your service connection, visit the local EB office. 

Visit TANGEDCO's official

website

to update, add and check the registered mobile numbers for your service connection. For a single service connection, apart from the phone number of the person registered as the named user,  four other phone numbers (of the occupants or owner) can also be updated. 
Know your rights to demand minimum standards of service and grievance redressal:
Frequent power cuts are a constant challenge in Tamil Nadu. The recent ministerial discussion to limit the unscheduled power cuts to a maximum of 30 minutes points to its seriousness.
As lawful consumers of electricity, let us not forget that access to electricity is our legal right and that we are entitled to be informed about power cuts (planned or unplanned) in our area.