Electricity is such an essential part of our everyday life that we do not consider the effort, both physical and economic, by the distribution utility to supply it to us. These include, but are not limited to, the raw materials that are used to supply electricity (such as wires),the  labour needed to install meters, place underground wires, the transportation of materials needed to undertake the work etc.  These costs are therefore levied as charges by the electricity distribution company on the consumer who wants a new electricity connection to his/her premises.
While consumers are usually aware of their electricity bills and how much they are likely to pay for these, one-time charges and deposits are not something that many consumers are aware of. Helping consumers understand the need for these lesser known charges and the regulations that surround these is the aim of this article.   
Electricity Act 2003
The Electricity Act 2003 (Section 43) has stated that it is mandatory to supply electricity when a person requests it from the distribution company, in this case, Tamil Nadu Generation and Distribution Company (TANGEDCO) . This implicitly means that electricity is an essential service and the utility has a duty to supply the same. Along with this, Section 45 of the Electricity Act, 2003 also allows the utility or distribution companies to charge consumers for these services. 
TANGEDCO collects charges from consumers who request for new service connections, when any expenses are incurred while installing the electrical line, distribution transformers. However, consumers should note that TANGEDCO cannot impose arbitrary costs for supplying electricity. The costs are regulated by the Tamil Nadu Electricity Regulatory Commission (TNERC) through the Tamil Nadu Distribution Code 2004 which is amended on a regular basis and through miscellaneous charges orders. TANGEDCO should adhere to the charges mentioned in the above orders and cannot deviate from these  prescribed amounts.   
Distribution Utility's Charges for availing a New Service Connection:
Now let us see what the various charges to be paid by consumers are:
1. Registration and processing charges:
Any consumer who requests for a new service connection from TANGEDCO has to pay a charge for the application as 'registration charges'. Registration charges for low tension consumers is set at Rs.200 per service connection.
2. Service connection charges:
These are charges for the materials required to effect the service connection such as
materials upto meter board connection such as laying cables to the premises
labour cost 
transport cost 
For each connection, the consumer is given an estimate of service connection charges and this amount is payable in advance. Connection will be provided only after  payment.  After completion of the work, a bill for the actual amount payable will be sent to the consumer. Any difference should be paid by the consumer or will be adjusted in future consumption charges.
3. Development charges:
This is collected from consumers as a one-time payment for creating the necessary infrastructure facilities such as installation of cable infrastructure including laying underground wires or overhead lines from the nearest distribution transformers, erection of new poles / distribution transformers etc. Development charges are calculated based on per service connection for single phase - low tension consumers; and per Kilowatt basis for three phase - low tension consumers. This is applicable for new service connections and also when the consumer requires additional electricity to be supplied ( ie, for request of additional loads).
4. Meter security deposit or meter caution deposit:
A fixed amount is collected as security for the meter from the consumer when procured from TANGEDCO. This is a one-time payment made while giving or effecting the service connection. This amount is decided based on the actual cost of the meter. Instead of getting a meter from the utility, in case a consumer purchases his own meter, this charge is not applied. However, all meters have to be configured by the utility. The security deposit for meters is refundable with interest calculated at 4.25 % p.a. The deposit is returned by TANGEDCO after termination of service connection.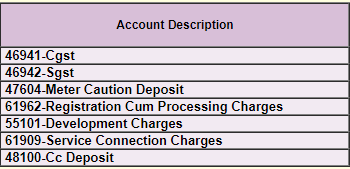 Image: Extracted from the New Service Connection charges paid by a consumer.
Source: Consumer ledger from TANGEDCO 
5. Security Deposit or Current Consumption Deposit:
An initial amount is collected from consumers as a security before supplying electricity. The security deposit is equivalent to estimated current consumption charges for 3 months for low tension (LT) service connections. For example, if the estimated current consumption charges are Rs.500 for one month then 3 times (500*3) of this amount, Rs.1500, will be the security deposit.  
If a consumer fails to pay consumption charges, this deposit will be used to recover the bill. This amount along with interest will be returned to the consumer, when they surrender the service connection. Currently the interest for security deposits is 4.25% p.a. 
The adequacy of the security deposit is reviewed every two years in the case of LT consumers. In some cases, an additional security deposit is charged from those consumers whose actual consumption charges exceed their security deposit amount. Additional security deposit is the difference between the initial security deposit and three times the monthly average current consumption charges, in the preceding twelve months.  
For example, if the initial security deposit is Rs. 3000 and three times the average monthly current consumption is Rs. 4000; then this difference (4000-3000) of Rs.1000 is the additional security deposit. 
In addition to this, Goods and Service Taxes will be appropriately levied.
As TANGEDCO makes several efforts to demystify its charges and keep itself approachable and relevant to consumers, it needs to provide a simple guide to each consumer that breaks down these charges in user-friendly language. These can even be added on the back of electricity bills, increasing the likelihood of consumers actually reading and understanding what they are being charged for. Apart from this, once they are familiar with the charges, it is also the duty of every consumer to ensure these are levied as per the above regulations.