According to Chennai's Comprehensive Mobility Plan 2019, the modal share of private automobiles increased from 2008 to 2018 while that of walk/cycle/public transport decreased. The most drastic change was the drop in  the bicycle modal share from 6.0% to 2.9%, while two-wheelers climbed from 25% to 29.6%. This changing modal share contributes to air pollution, road crashes, and congestion. In order to develop safer and more sustainable travel options in our cities, we must increase walking, cycling, and public transport use. 
There have been several steps taken by the government to increase the use of bicycles by bringing in a non-motorised transport (NMT) policy, marking some stretches of bicycle lanes, introducing a bicycle hiring facility at Metro stations and introducing a public bike-sharing system (PBS). PBS is a system geared to make it easier for people to connect to bus and rail networks. Often (and this is based on the author's experience of living in a city) a bus stop or railway station is located at just the upper threshold of an easy walk, and sometimes, beyond it. This is often referred to as the first and last mile connectivity problem. PBS fills that space by making a cycle for hire available for short rides at very affordable rates. As part of the Smart City Mission, the PBS, Smart Bike was introduced in Chennai in February 2019. In spite of an initial spurt in use, perhaps due to curiosity, PBS has not really taken off in Chenani. To understand why, we looked at the metrics as well as how PBS is faring in other cities across the country. 
While ridership numbers for Smart Bike are not readily available post-2020, it was possible to cobble together an understanding of ridership trends with information from the Smart Cities website, Smart Bike's Facebook page, media reports, as well as through anecdotal evidence (interviewing users, our on-road observations etc.) As of March 2020, a year after the scheme began, there were 78 docking stations, 34432 people had registered with the app, and 125361 bike rides had been logged in Chennai, which comes to nearly 10,500 rides per month on average. More recent data is not provided on the official website but an October 2022 media report quotes data which they say was obtained from the Greater Chennai Corporation (GCC). According to the media article, average rides varied between 1000 and 1,400 per day depending on whether it was a weekday or weekend, in the pre-Covid months. This was when only 250 bikes were deployed. Currently ridership ranges from 600 to 900 even though 1125 bikes are deployed. Clearly there has been a huge drop in ridership post-lockdown. While it may be partly due to the pandemic, two years since lockdowns, the numbers are still poor. We look at some potential reasons why PBS has not taken off.
Why did it fail?
A PBS system, if it is to solve the first and last mile connectivity issue, must have numerous docking stations with adequate numbers of cycles; be easy to use; cheap; be supported by cycling infrastructure (safe lanes, shade); be accessible to everyone; and promoted extensively.
Various bike sharing programmes have been implemented in a number of Indian cities including Mumbai, Chandigarh, Surat, Bhopal, Kolkata, Bengaluru, and Mysuru by different service providers such as MYBYK, SMART BIKE, Trintrin, COO Rides, Chartered Bike and Yulu. A Niti Aayog report of 2020 and a GiZ report of 2021 note that all these attempts are facing very similar challenges.   
A vision for PBS 
A plan is crucial for effective implementation of PBS. The city authorities must have clarity of purpose in mind before embarking on the PBS journey. What does the city want the PBS to do? What are the timeframes? PBS also needs to be embedded within a larger transport plan for the city so that coordination with bus and rail systems can be done seamlessly. PBS also needs phased plans - start in a pilot area, ensure high density of cycles and docking stations to promote use, and then scale up the effort across the city. This may take up to several years to get it rolling. As the GiZ report notes, cycles (PBS) per 1000 people is less than 1 in India while in China it's 8.4.
Not the only solution
The Niti Aayog report makes the pertinent point that cycle modal share won't go up with just PBS as there are people who own cycles, some who prefer e-rickshaws etc. People may prefer e-scooters as they require less effort. In addition, cycles are infra-dig. Some potential users (like women) may be hampered by clothing restrictions. Therefore, each city will have to see what works for it.
Safety
Safety is a major concern for potential PBS users. It is well-known that cyclists are extremely vulnerable on Indian roads due to lack of infrastructure and poor driving by motorists. Soft changes i.e in behaviour, approach to cyclists must also be looked into if more people are to take up PBS.
Talking money
As with all public transport, there can be no expectation of profit from the fare box. Yet fares need to be affordable. The addition to the daily commute cost due to PBS cannot be more than a few rupees. In addition, if PBS is meant for last mile connectivity, rides should be typically short,  say less than 4 kms. The hire duration should then also be less than 30 minutes. Looking at the rates across cities, Chennai's rates are not tenable. 
Chennai 

Smart Bike

2019

-*

6.65

30.61

Delhi

Smart Bike

2018

Free

10

15

Bhopal

Chartered Bike 

2017

Free

5

35

Chandigarh

Smart Bike

2020

10

20

40

Surat

Chartered Bike

2019

Free

5.90

11.80

Kolkata 

Chartered Bike

2020

1

5

10

Ranchi

Chartered Bike

2019

Free

5.90

29.5

Electric Bikes 

Bengaluru 

Yulu

2018

10

15

25

Mumbai 

Yulu

2020

10

15

25
*- In Chennai, the minimum rental time for the Smart Bike is 60 mins.
Table 1: Tariffs for various public bike sharing in India (taken from various apps)
Promoting it right
PBS is a relatively new concept to many Indians. As our interviews of citizens and media reports have underlined, many people who use public transport (and therefore are a target audience for PBS) are unaware of the option. While they have likely seen a PBS docking station, information on how to use it is not provided in Tamil (in Chennai). A CAG study on public transport users also found that many are not tech-savvy even though they use smartphones. So app-based systems with credit/debit card payment options can alienate a substantial client base. 
When compared to other PBS apps, Smart Bike appears to have an average rating. Some of the most common complaints (in the app review section of Playstore) are app glitches, difficulty finding features, bicycles that don't unlock, deposits that aren't refunded, and poor customer service. iOS users say that when their phone OS gets upgraded, the app becomes troublesome. Poor functionality of apps may also be a reason for losing valuable customers. 
Then there is the way PBS has been promoted in Chennai. It has largely been advertised as a fun, joy ride experience and not as an easy, short commute option. The social media handles for Smart Bike, for example, puts out calls for Chennai to come hire a bike on the weekend and have fun, save the environment, etc.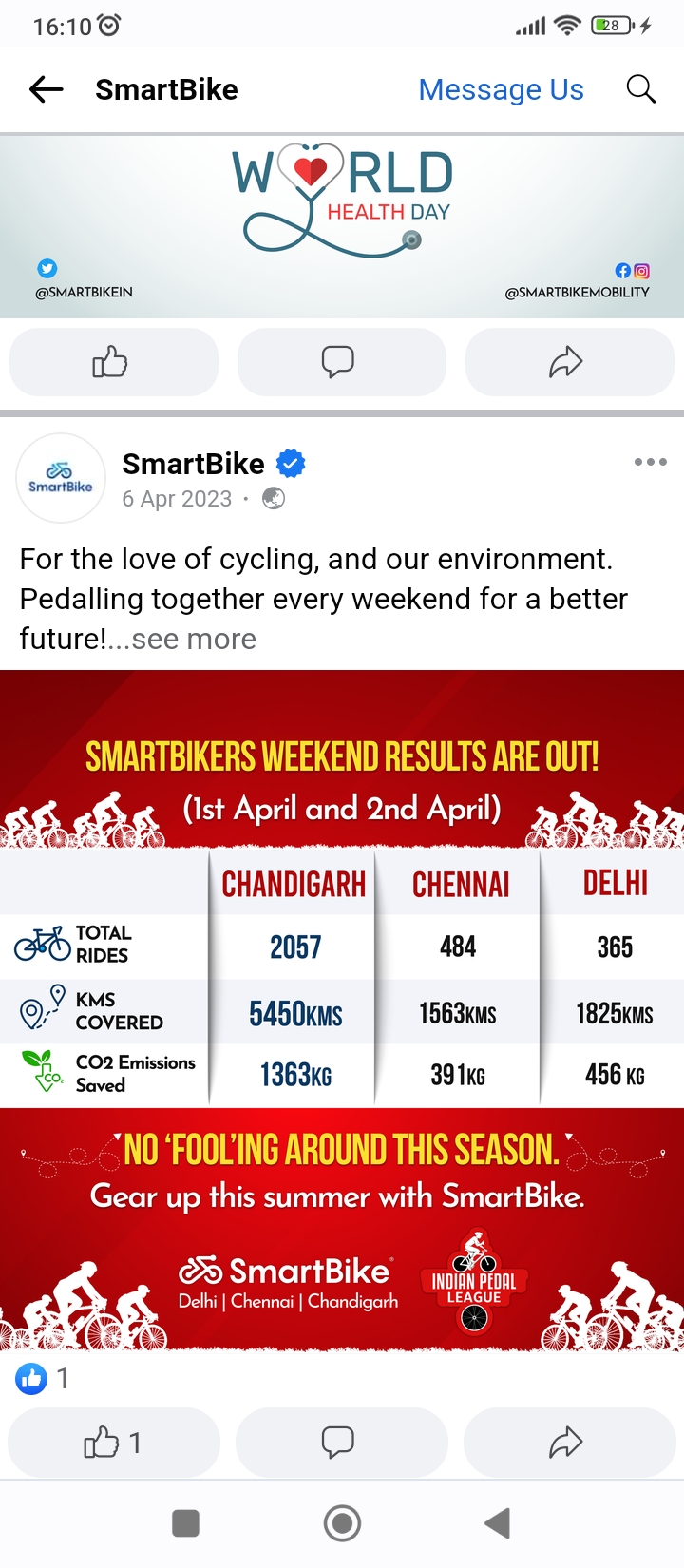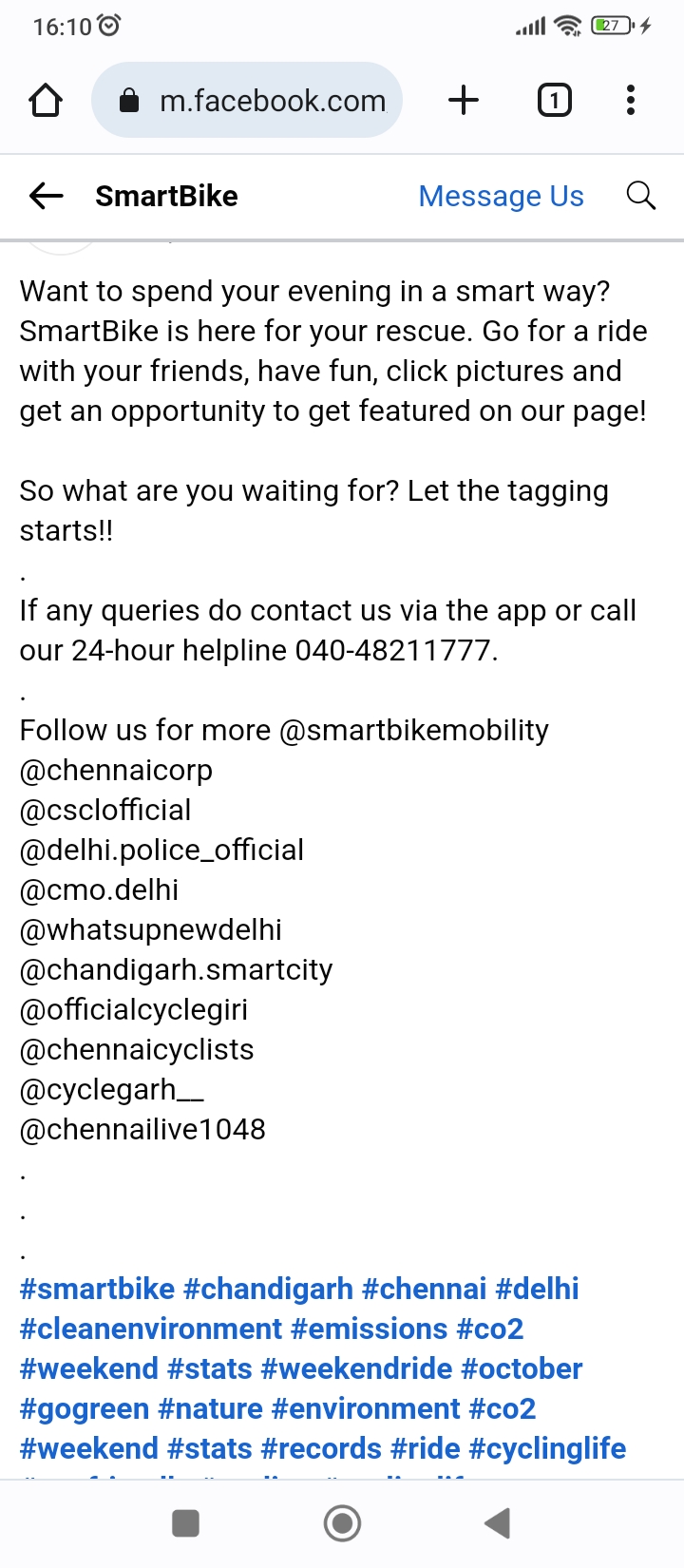 Figure 1: Posts on SmartBike Facebook page
Conclusion
Public bicycle sharing is a fantastic initiative to boost cycling and advance the use of sustainable transportation in our cities. For short individual trips and first and last mile connectivity, it can be a very practical solution if there is a clear goal, detailed phase-wise plan, and the understanding that change will not happen overnight. 
Issues of safety need to be addressed with infrastructure development for cycling such as cycle lanes and an acceptance of cyclists as legitimate road users. Finally, a long term goal has to be to change public perception of cycling as infra-dig and that cycling cannot be an convenient/easy mobility option for commuting.