Over the years, the number of schools, especially private ones, has burgeoned and so have mobility options for the school commute.  This has provided families with the flexibility to choose schools located farther from their homes. However, this also means there are more road safety risks for their children if precautions aren't taken. While the educational quality and physical amenities offered by both local government schools and private schools have considerably improved, regardless of type of school, there appears to be a notable deficiency in prioritizing the safety of children during their commute to school.
What do the statistics say ?
According to  UNICEF, India is home to 431 million children under the age of 18, with an adolescent population (ages 10-19) of 253 million, which is the largest in the world. The nation's future development depends significantly on this adolescent demographic, underscoring the urgent need to prioritize their safety, health, and education. A World Bank report published in 2021 reveals a concerning paradox: while India possesses just 1 percent of the world's vehicles, it accounts for 11 percent of global road crash deaths and injuries. There was a 1% increase in road-related fatalities among children under 18 from 6.4% in 2017 to 7.4% in 2019, followed by a 2% decrease from 7.4% in 2019 to 5% in 2021, according to the Ministry of Road Transport and Highways, 2021 report. While this points to an  improvement in recent years, it is crucial to make conscious efforts in working towards the ambitious goal of eliminating road-related deaths among children.
When it comes to Indian cities, Chennai witnessed the highest number of road crashes and ranked second in road crash-related fatalities in 2021, as reported by the Ministry of Road Transport and Highways. The majority of these deaths were accounted for by two-wheelers. In 2022, Greater Chennai Traffic Police (GCTP) conducted surprise checks in Chennai schools, resulting in over 17,000 cases of violations, including underage driving, triple riding, footboard traveling, and overloading of passengers in autos. According to the National Crime Records Bureau, 7.4% of road-related fatalities in India occur in close proximity to educational institutions.
These statistics clearly indicate a compromised safety environment for road users, particularly school children, necessitating immediate action. Often, only when accidents involving school children gain media attention do we collectively respond, prompting government interventions. However, even these tend to be short-lived, knee-jerk responses. Sustained vigilance and follow-up are crucial, if we are to make our streets safer for all.
Why road safety for school children ? 
The primary cause of mortality among children and youth aged 5 to 29 is road traffic incidents, according to the World Health Organization (WHO). Children fall into the category of vulnerable road users due to their limited physical, cognitive, and social development. In the unfortunate event of a road crash, children are at a higher risk of sustaining severe injuries compared to adults. This is because children's bodies are still in the process of development. Younger children are more likely to be hit in the head or neck in the event of a road crash due to their smaller stature. Their skull is thinner providing less protection to the brain which can result in significant head injuries.
Height restrictions further add to their vulnerability, affecting their ability to observe their surroundings and navigate blind spots effectively. For instance, when encountering a blind spot created by a parked car, adults can easily look over to the other side, whereas children may struggle due to their height, potentially leading to sudden, unanticipated dashes into the road without checking for oncoming traffic. Children's perspectives differ significantly from that of adults, as their eye level is considerably lower. Consequently, they may fail to notice important traffic signs and the flow of vehicles. Furthermore, their height makes it more challenging for drivers to spot them on the road.
Young children often have limited sensory perception and shorter attention spans, which affect their ability to judge the proximity and speed of vehicles. Consequently, they may encounter difficulties when attempting to cross roads or navigate through traffic. While it is important to instruct them to look both ways before crossing, it is equally crucial to teach them what specific cues to look for and how to make informed judgments based on their observations. It's a common perception among road users that children tend to neglect traffic regulations. However, a shift in perspective is necessary, wherein we consider the road environment from the standpoint of children and adapt it accordingly. The road environment is predominantly designed for adult men who take direct trips with singular purpose via motorized transport modes. The needs of other vulnerable groups such as women, children and elderly are often overlooked. Both, women and children, rely more on the non-motorised transport modes and public buses. However, as these modes are not always safe, it can result in limiting the mobility of women and especially children. Roads also do not have the infrastructure and elements to compensate for the lower impulse control and limited physical and cognitive ability of children leading to compromised road safety. 
Causes of road safety risks in the school zone
Chennai ranks first in terms of road accident deaths due to overspeeding in 2021 as per Ministry of Road Transport and Highways. The school start and end timings often align with those of colleges and workplaces, resulting in a rush of traffic during peak hours. Unfortunately, this rush leads to instances of overspeeding, significantly heightening the risk of near misses and accidents within school zones. Not complying with traffic rules and regulations is a major cause of road safety accidents near schools. This might be due to the lack of or improper traffic management enforcement measures such as unavailability of traffic signs and road markings.  
Another concern in the school zone is crowding and congestion experienced during school hours. The use of private vehicles such as two wheelers and cars by parents and opting for other transport modes like auto rickshaws combined with improper to non-existent traffic management cause congestion. Parents believe that opting for sustainable modes like walking and cycling are not safe for children, since the pedestrian pathways and cycle lanes are absent in our roads. Additionally, the modern household dynamic, where both parents are employed, leaves little time for them to personally supervise their children on walking or cycling trips which are more time consuming modes of transport. 
Since the implementation of the Tamil Nadu Motor Vehicles (Regulation and Control of School Buses) Special Rules in 2012, there has been a decline in the registration of new school buses according to Tamil Nadu Transport and Road Safety Commission, because the requirements for registration are stringent. According to this rule, school buses should follow several safety measures  which include details regarding school bus permits, qualifications and duties of drivers, duties and responsibilities of the attendant in school buses, construction and maintenance of school buses etc. 
Due to the shortage of school buses, parents opt for private transportation such as auto-rickshaws. They are overcrowded because auto drivers want to make a profit but also balance it with the price that parents are willing to pay. Parents often prioritize low cost without realizing how it affects the safety of their child. Another reason why parents prefer auto-rickshaws instead of school buses even with the existing unsafe conditions is due to the convenience of their children being dropped off individually at their homes, as opposed to the common drop-off location utilized by school buses.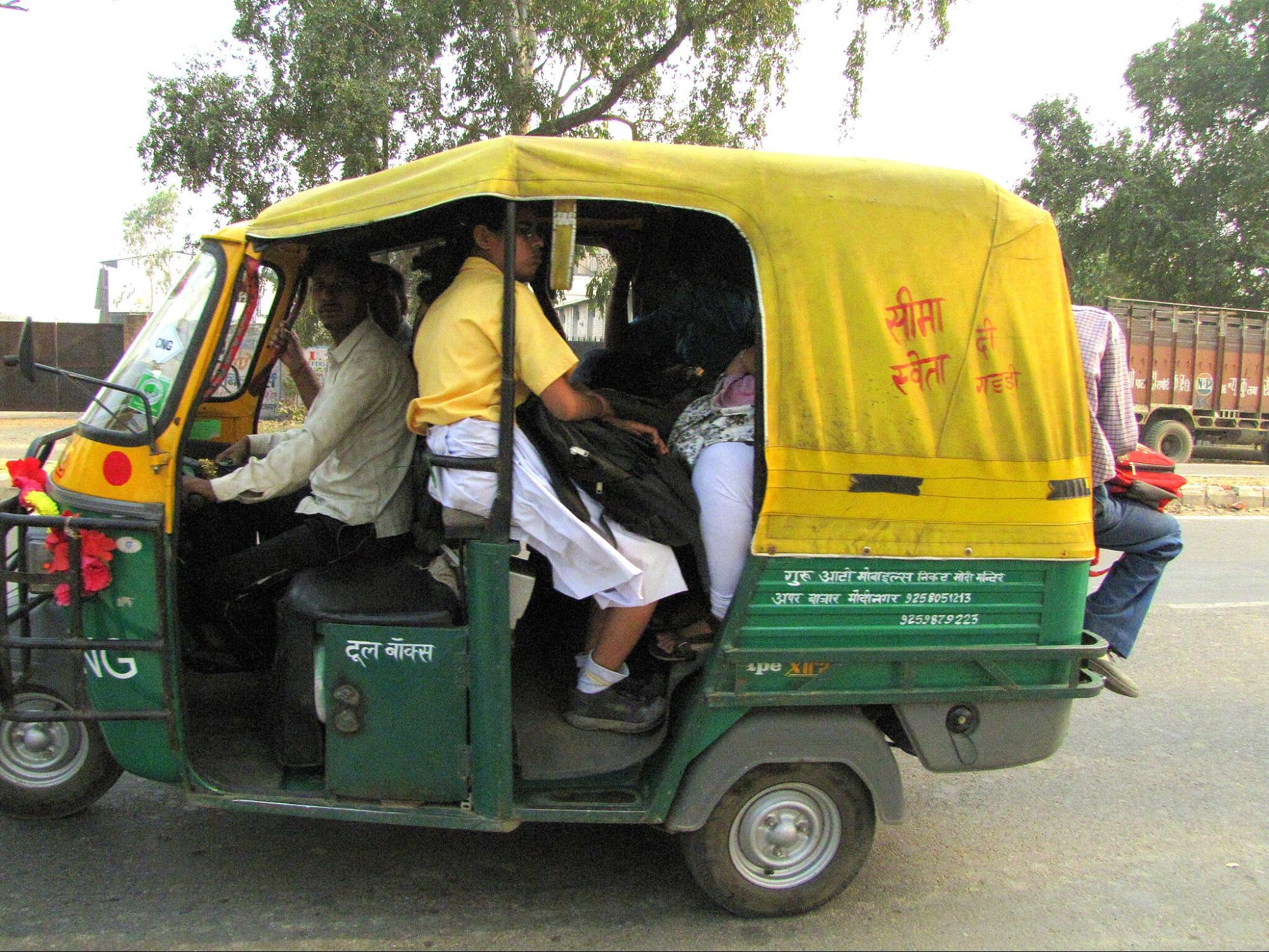 Photo: Auto rickshaw overcrowded with school children by Paul Hamilton used by CC BY-SA 2.0
Tamil Nadu Transport Department in 2012 under Motor Vehicles Act 1988 said that autos carrying school children must be registered with the concerned Regional Transport Office (which is pursuant upon the vehicle operator being  endorsed by the school principal or headmaster).  According to the state government, the auto rickshaws can carry up to five children under the age of 14 years and up to three children above the age of 14 . Neither of these protocols are taken seriously by operators, parents, schools or even the police.
A report from the National Crime Records Bureau (NCRB) reveals that underage children, those below 18 years of age, accounted for 9.6% of road accident fatalities in 2021. Some parents permit their older children, who may not be of legal driving age, to pick up their siblings from school on two-wheelers. In some instances, parents even allow their underage children to drive to school when they (parents) are otherwise occupied. This is a critical concern, and parents should not overlook the significance of these decisions. 
Non-inclusive road infrastructure
School children from low-income families face a disproportionate risk of  road accidents as they have limited transportation options. Typically, these children travel to school by either walking or cycling. The pedestrian and bicycle infrastructure required for students to commute to school on foot or by cycling is either inadequately maintained or entirely absent. Additionally, there are no transportation services provided by government schools. Hence, these children use public buses for their commute.
In 2017, the Madras High Court emphasized that even government buses servicing routes for school children must adhere to safety guidelines as per Tamil Nadu Motor Vehicles (Regulation and Control of School Buses) Special Rules in 2012. Unfortunately, buses on these routes frequently lack essential safety features like proper doors. Moreover, a shortage of government buses leads to overcrowding, forcing students to stand on the footboard. In January 2023, the MTC introduced 20 additional bus services across 12 routes in Chennai, prioritizing the safety of school and college students. These routes were selected based on a field study done by officials from operations, planning and technical wings of the transport undertaking. Later, it was stated that this expansion augmented the carrying capacity during peak hours and alleviated congestion and footboard travel. Sustained endeavors of this nature are essential to guarantee the safety of students utilizing government bus services. Where some parents want their children to travel in relative comfort and pay the steep price for auto-rickshaws, these don't follow safety measures or guidelines. All these factors combined, make school children belonging to low income families significantly more vulnerable to accidents compared to their peers.
Way Forward
It is imperative to establish Safe School Zones within our cities. A Safe School Zone encompasses designated roadways in close proximity to a school where heightened caution is necessary due to increased pedestrian and vehicular activity related to the school. Standard 'school speed limit' signs demarcate the start of a school zone, while 'end school zone' signs indicate the end. 
To ensure safety, these zones should incorporate a combination of strategies, including tactical urbanism, enhancing the road and non-motorized transport infrastructure, traffic surveillance by both traffic authorities and school management, as well as the integration of technology.  Given the high population, it is impractical to individually identify and penalize every traffic rule violation. Therefore, technologies like Automatic Number Plate Recognition (ANPR) cameras should be installed in the school zone. Road markings and traffic signage should be strategically placed at the commencement and conclusion of school zones and also wherever else these are deemed necessary.
Tactical urbanism elements, such as colored pedestrian pathways leading to school entrances, colorful pedestrian crossings, and vibrant curb extensions, represent immediate and cost-effective measures to alert road users and encourage compliance with traffic regulations. However, these measures, while effective in the short term, may not result in behavioral change for all individuals. To achieve maximum compliance, it is imperative to prevent road users from violating these rules under all circumstances. Hence, permanent features designed to automatically reduce vehicle speed should be integrated into road infrastructure. 
For instance, curb extensions should not only be visibly marked and colored, but also have bollards to physically separate them from the road.To reduce vehicle speed and prioritize pedestrian safety, features like elevated crosswalks, raised pedestrian pathways, median refuge islands, speed bumps, and chicanes can be implemented, compelling vehicles to slow down. 
Reducing congestion in school zones can be achieved by encouraging a majority of students to utilize sustainable transportation modes. To facilitate this, pedestrian pathways and cycle lanes should be established and properly maintained, instilling confidence in parents regarding the safety of their child when they walk or cycle to school. Furthermore, schools should utilize government initiatives such as ECOmmute by TNPCB. This scheme offers certification to high schools in Chennai where over 90% of students use eco-friendly modes of transportation such as walking, cycling, public transport, E-cycles, E-vehicles, school buses, or private vans. Students attending these schools will receive certificates, and the top 20 ECOmmute high schools will receive additional incentives.
Schools must prioritize the safety of children not just within the school premises but also during their commute to school. This includes ensuring that school buses possess the required permits and that bus drivers meet the qualifications specified by the Tamil Nadu Motor Vehicles (Regulation and Control of School Buses) Act of 2012. Additionally, schools should verify that auto rickshaws transporting school children have the appropriate permits and adhere to safety guidelines. Any violations of these regulations should be promptly reported to the relevant transport department by the school authorities.
To facilitate safe travel for students using public buses, the government could consider implementing dedicated buses exclusively for students  during peak hours along routes where most schools or colleges are located. This initiative would not only enhance student safety but also promote the use of public transportation.
Conclusion
Promoting education and awareness is pivotal in influencing the behavior of both students and parents. Introducing road safety into the school curriculum and giving it due weightage in examinations will encourage active student participation. Establishing road safety patrol teams within schools can effectively raise awareness and involve students in traffic management. Even the best efforts from school management, government, and parents can become ineffective if there is no shift in public behavior. As responsible members of society, it is essential for us to conscientiously work towards creating safer streets for children by adhering to traffic rules and regulations. By prioritizing the safety of children who fall under vulnerable groups, we naturally contribute to the overall safety of our cities, benefiting everyone.