Let us start by answering a straightforward question: do we drive on the left or the right of the road? The answer is, in India we do 'both'. This stinging satire is enough to summon our  memories of everyday terrifying experiences on roads. An inherited ignorance of road rules has led to casual speeding, tailgating, jumping red lights, lane indiscipline, misuse of hazard lights,  failing to check blindspots, failing to use helmets, seatbelts and other safety gears, overtaking on the left, neglecting signages, driving when drunk/drowsy/distracted and giving short shrift to pedestrians, cyclists and other Vulnerable Road Users (VRUs). What is staggering is that all these driving offences are deemed completely normal. For as long as we can look back, and in a constantly progressive manner,  careless and irresponsible driver behaviour is marring the safety on Indian roads.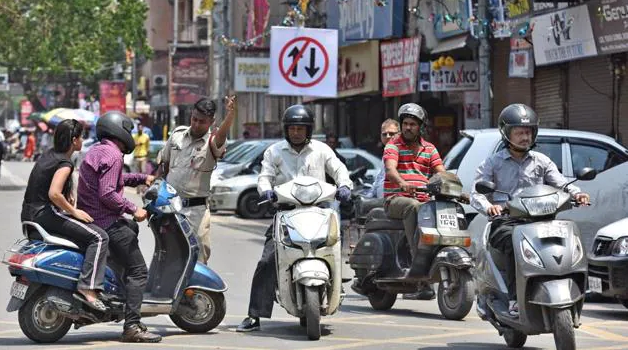 My way not 'One way'! |  Photo: Hindustan Times/2019 
Why are we not able to curb this menace?
For a long time now, there has been no stigma associated with being a bad driver. This gives a free ticket to drivers to continue driving recklessly with no care for their fellow road users, bullying VRUs (pedestrians, cyclists, children, elderly and people with disabilities) and denying them their basic road rights. A recent study by the self-drive rental company, Zoom Cars in collaboration with HERE technologies evaluated drivers of 22 cities across India between November 2020 and 2021. The survey gathered over 200 million data points assessing various driving parameters such as vehicle speed, brake and acceleration patterns. The findings revealed that less than a quarter of the driver population of 3 cities from Tamil Nadu viz. Chennai, Coimbatore, and Tiruchirappalli were categorised as good drivers. This resonates with the national statistic by the Ministry of Road Transport and Highways (MoRTH) which attributes 80% of the road fatalities in 2021 to various violations - drunken driving, lane indiscipline, jumping red lights and use of mobile phone while driving - categorised as the 'driver's fault'. But, is it really the driver's fault when it is an openly acknowledged reality that one can easily acquire a driving licence in India without having to undergo driving programmes or pass any rigorous driving tests?
The systemic deficiencies have time and again led to shoddy implementation of the driving test. In addition, the reeling corruption behind the scenes makes the licensing process a business controlled by touts that help people acquire a permanent Driving Licence without having to undergo an actual driving test. Of the four lakh and more road crashes in India each year, over 30,000 involve drivers without a valid driving licence. The statistics call for the long overdue change in the procedure of procuring a Driving Licence by mandating proper driver training programmes, knowledge of road rules and stringent driving tests.
Fig 1: Road crashes involving drivers without a valid driving licence vs  total road crashes in India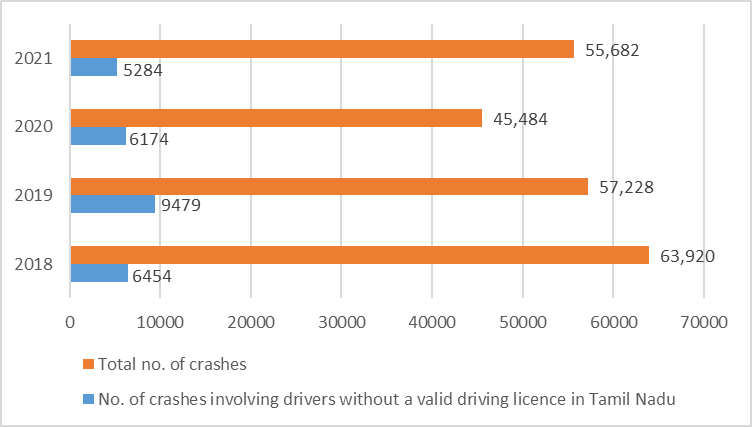 Fig 2: Road crashes involving drivers without a valid driving licence vs total road crashes in Tamil Nadu 
The Government of India brought in amendments to the Motor Vehicles Act and this was passed in 2019 (the Motor Vehicles Amendment Act, 2019) which increased penalties for various traffic violations. This is a good first step to improve compliance with the rules. In the proverbial carrot and stick, this is the stick. This 'stick' needs to be further strengthened by stringent driver training programmes, driving tests (we can emulate other countries in this), and the recognition that road rules apply to everyone, including the enforcement agencies themselves to ensure that everyone gets the 'carrot' viz. staying safe and alive on roads. 
A driving test should evaluate a driver for vehicle control (clarity in using accelerator, brakes and clutch), handling speed shifts, gear changes, reversing, corner turns, parallel parking, reading important signals and signs, using safety gears, using side and rear view mirrors, driving up a gradient and more. In short, how to be a good defensive driver who doesn't harm one's own self or anyone else on the road. The Central Motor Vehicles Rules (CMVR) 1989 furnishes an elaborate set of parameters to be tested in driving licence applicants under Clause 15.  However, from observations we see that licensing procedures and driving tests vary largely from state to state. Delhi adopted automated driving tests in 2021 urging people to take the process seriously owing to the accuracy levels in vehicle handling during turns and bends being evaluated by the system through a series of tests that include a 'reverse S', a figure of 8 and parallel parking. This sudden revision of the driving test process led to a question which was raised by a citizen regarding lack of awareness among the public about such redefined driving tests in Delhi in 2021. The Transport Minister as a reply, released a written statement to the Lok Sabha highlighting that anyone seeking a Driving Licence is required to pass an expanded set of skill tests as per the Central Motor Vehicle Rules (CMVR) 1989. The statement also read that prior learning sessions on automated driving tracks are also mandated and a higher passing percentage of 69% is needed to qualify for a Driving Licence. Following this, an advisory to encourage implementation of the existing rules and mandates was sent to the state governments in 2021. This is a necessary push for states like Tamil Nadu where a typical driving test includes only driving along a 'H-shaped or a 'figure of 8' track (not necessarily automated though). 
However, it is also crucial to understand that computerised/automated testing tracks alone do not make for a fool proof solution. The automated mode of execution makes the test tougher by a certain degree and examines vehicle handling/control with a higher accuracy, yes, but fails to evaluate several criteria that are crucial for driving safely on Indian roads. A sustained and scaled up change in driving behaviour across the country can be induced only through reviewing the effectiveness and credibility of the existing driving tests. We need to look at what skills the tests aim to evaluate; how they carry out the evaluation; and what are the outcomes of such evaluations. This will facilitate course correction of the existing licensing process.
Rethinking the existing driving test regime
While the parameters to be evaluated in a driving test as mentioned in Central Motor Vehicle Rules (CMVR) 1989 remain crucial, it is first important to instil knowledge on safe driving behaviour among people. Borrowing from global best practices, the government should formulate a driving manual/handbook that can guide people to become safer road users. Rigorous practical driving tests, and scrutinising safe driving techniques will help us stop churning out dangerous drivers.
Existing online licence application facilities and the rules notified by MoRTH in 2021 have helped to streamline the process of acquiring a Driving Licence by obtaining a passing certificate at any authorised training centre directly thereby making the process less time consuming for us all. However, these rules have been flashed as "elimination of driving tests" to the public, further amplifying the message that the authorities take a slack attitude to road safety. It is important to acknowledge that these rules mandate a period of practical and theoretical training at the driving facility and passing driving tests with a valid certificate which will only then fetch a driver, their permanent Driving Licence; the process just eliminates the need to make trips to the nearest Regional Transport Office (RTO) for a driving test. The process of acquiring a Driving Licence should establish the fact that driving is a privilege that needs to be earned and not a right.
Tying all the existing facilities together with more tough driving tests (practical and theoretical) focused on road etiquette to be followed under various road scenarios will help us reduce road crashes exponentially thereby, creating a safe road environment for all.