The importance of food safety cannot be overstated, especially with  accessibility and convenience taking priority over health and nutrition in our modern lives. Questions around food safety become more crucial as e-com portals enter the space. Food shopping on e-com portals adds a layer of anonymity to the foods we purchase and consume.  Traditionally, food shopping would have taken several trips to the grocery store or fresh foods market, with much deliberating, sniffing, handling and haggling before the purchase was made. With growing technology and ease of lifestyles, people do not find the time for a good home cooked meal that is definitely healthy, with no preservatives or additives. Irrespective of health concerns, the revolution of buying online has taken over such traditions. E-com portals have taken away these time tested, secure processes, offering in their place, convenience. It could be argued that shopping from the convenience of one's home affords shoppers more time to read labels, check ingredients and deliberate on purchases. Whether online shoppers actually use these privileges will need an audit of some manner. There is no question though that several households now value the convenience of ecom shopping;  and that steps need to be taken to ensure that this dependance and trust that consumers place on e-com portals is not misplaced.  In other words, it is essential to integrate online shopping with strict food safety rules and practices. 
Online shopping for foods can refer to shopping for everyday groceries (eg, rice, lentils), processed foods with long shelf-lives (eg, ketchups, chips), fresh foods including fruits and vegetables, and cooked meals ordered via aggregators such as Zomato and Swiggy.
Growth of online shopping in India
Digitalization has made huge leaps enabling online transactions, with a wide  selection of payment options, making online shopping fast and secure. Unquestionably, the usage of smartphones has aided in the development of mobile shopping to the point that every third Indian is estimated to shop  online using a smartphone. The big brands in this market compete for our patronage every holiday season, offering lavish sales.
The online food delivery industry is one of the fastest-growing segments in the Indian e-commerce industry. The food delivery market share in India is expected to increase by USD 716.53 million from 2021 to 2026, and the market's growth momentum will accelerate at a CAGR (Compound Annual Growth Rate) of 28.13%. In India, the online food delivery market size reached US$ 28.4 Billion in 2022.
India Brand Equity Foundation (IBEF), a Trust established by the Department of Commerce, Ministry of Commerce and Industry, Government of India, estimates that the Indian e-commerce industry has been on an upward growth trajectory and is expected to surpass the US to become the second-largest e-commerce market in the world by 2034. The Indian online grocery market is estimated to reach US$ 26.93 billion in 2027 from US$ 3.95 billion in FY21, expanding at a CAGR (Compound Annual Growth Rate) of 33%. The Indian food processing market size reached US$ 307.2 trillion in 2022 and is expected to reach US$ 547.3 trillion by 2028, exhibiting a growth rate (CAGR) of 9.5% during 2023-2028. 
Factors contributing to the popularity of online food shopping
Convenient and quick: 
The unmatched ease that online grocery shopping offers is one of the main factors contributing to its popularity. Customers no longer need to make time-consuming journeys to physical stores because they can get their groceries or meals online in just a few clicks from the convenience of their homes. Working parents, professionals with demanding schedules, and people with physical limitations all value the ability to save time and use it more effectively.
Wide Product Selection and Customization:
A comprehensive selection of items are available on platforms for online food purchasing, including organic, gluten-free, and vegetarian alternatives. Customers can  find specific  hard to obtain goods, with  online platforms frequently providing customization options that let customers modify their orders to their tastes, encouraging a personalised shopping experience.
Competitive Pricing and Discounts:
The competitive price and regular discounts provided by e-commerce platforms no doubt serve to boost the popularity of online food shopping. Online merchants are able to provide competitive rates by using economies of scale and reducing overhead expenses, making them a desirable choice for consumers on a budget. People are further encouraged to purchase online by the availability of numerous discounts, promotional codes, and reward systems.
Seamless User Experience and Technology Integration:
The experience of buying food online has been substantially improved by technological advancements. Consumers may easily locate desired items faster because of user-friendly interfaces, straightforward navigation, and innovative search algorithms. Additionally, the smooth ordering, payment processing, and real-time order tracking made possible by improved technology increase client convenience and satisfaction.
Trust and Safety Measures:
In recent years, online food shopping platforms have invested significantly in ensuring the safety and trustworthiness of their services. Standardised hygiene standards, secure payment gateways, strong data protection measures, and reliable delivery systems have addressed initial concerns about the freshness and safety of products. This focus on trust and safety has played a crucial role in fostering consumer confidence in online food shopping.
Regulatory Framework for Online Sale of Edible Items:
The Food Safety and Standards Authority of India (FSSAI) in recent years has strengthened  regulations for improving food standards. The new laws place a renewed focus on empowering customers to make informed choices about their food purchases, including those made in restaurants and on online shopping sites as well as those of packaged food items. Under the new Food Safety and Standards (Licensing and Registration of Food Business) Amendment Regulations, 2020, the e-commerce platforms are required to provide for mandatory labelling of food products offered for sale through their platform.
The new regime has also brought restaurant operators with a large chain of networks within its scope as follows: 
Selling of food products through  e-commerce entities like Amazon, Flipkart, Big Basket etc.:
When the products are listed on an online platform, it is mandatory to display the declarations of the label to the consumer before the sale, with exceptions of certain variable declarations like batch number, best before date, expiry date or date of manufacturing/packing. The FSSAI instead emphasises that the food articles delivered to the customers shall have a shelf life of 30 percent or 45 days before the actual expiry at time of delivery. In the case of caterers and restaurants, only freshly cooked food items are to be delivered. 
With the new regulations, e-commerce portals are required to ensure that labels fulfilling the requirements under the food regulations are posted or shown on their portals prior to a seller offering his food products for sale online.
The online store, in accordance with the rules governing label display, may upload images of the food packages from all sides so that customers may check them online and read the statutory declarations and claims made on the pack. This ensures that the labelling under Legal Metrology (Packaged Commodities) Rules, 2011 are covered by the e-commerce platforms.
Name of the food to be provided on the front panel of the pack and not just brand name or trademarks:
The new regulation prescribes that the product displays the true nature or name of the actual food in front of the pack. Earlier when this was not mandatory, the manufacturer/brand owner provided attractive brand names or trademarks of the product alone on the front panel which often misled the consumer. Eg. The name instant noodles or display of the word Cereals, instead of just the brand name.
Allergen details to be mentioned on the  front of pack:
Food business operators (FBOs) are required to include allergy information on the front of packs if they contain certain foods; or components, such as peanuts, tree nuts, cereals with gluten, soybeans, milk, eggs, fish, etc., 
Additionally, the regulations require that separate allergy warnings be provided even when elements in the product or in the manufacturing site may result in cross-contamination.
New logos for veg, non-veg and not for human consumption:
To make it easier for persons who are colour blind, the new regulations have replaced the previous logo for non-vegetarian food items with a triangle inside of a square with a brown edge instead of a circle for both, vegetarian and non-vegetarian.
A new black coloured cross inside a square with a black outline has been introduced by the FSSAI to be displayed on food products sold at retail which is not intended for human consumption. Therefore, using this sign on containers containing ghee for diya, oil for worship, or pet food is now required.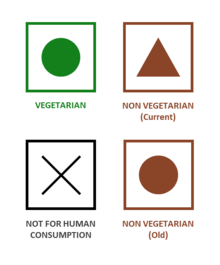 Image of the new symbols for vegetarian, non-vegetarian and food not for human consumption |  Wikipedia
Expiry date must be provided rather than only use before date
Earlier it was sufficient to only provide the use before date, but now the FSSAI has mandated  expiry dates to be provided separately, making the use before date optional. This practice cuts down the confusion among the consumer who might choose to use the food product beyond the use before date.
How consumers can ensure regulatory compliance when purchasing edible items online:
Choose platforms: Opt for well-known and established online marketplaces or websites that have a track record of complying with regulations and ensuring the quality of their products.
Check for FSSAI licence/registration: Look for FSSAI licence or registration number displayed on the website or product packaging, as it indicates compliance with food safety regulations. 
Here, FBOs who have an annual turnover of less than rupees twelve lakhs require a basic registration and for FBOs whose annual turnover is above twelve lakhs, obtaining a licence is mandatory.  The FSSAI licence includes two types: State licence and Central licence. For all FBOs that have an annual turnover between ₹12 lakhs to ₹20 crores, a state licence is a must and If the annual turnover of the business exceeds ₹20 crores,  central licence is mandatory.
The FSSAI licence number which is issued to all types of food businesses consists of 14 digits. An FSSAI Licence is issued for a validity of 1 year or 5 years;  the business must apply for renewal 30 days prior to the expiry of the current licence.
Verify seller credentials: Research the seller's background, customer reviews, and ratings to ensure they have a good reputation for delivering quality products and adhering to regulations.
Read product descriptions and labels: Carefully review product descriptions, ingredients, nutritional information, and allergen warnings provided on the seller website to make informed decisions.
Look for proper packaging and labelling: Ensure that the product received is appropriately packaged and labelled as per regulatory requirements, and contains necessary information such as manufacturing date, expiry date and FSSAI logo.
Report non-compliance: If consumers come across any violations or non-compliance with regulations, they should report it to the appropriate authorities such as FSSAI or consumer protection agencies. 
For filing of complaints regarding any kind of non-compliance to the FSSAI rules and regulations, complaints can be registered in the online portal - https://pgportal.gov.in/. 
Initiatives taken by FSSAI to address concerns of the consumers include:
E-mail: compliance@fssai.gov.in; Whatsapp or SMS: 9868686868; Facebook page: FSSAI; Twitter: @fssaiindia;  Toll-Free No.: 1800112100; Application: Food Safety Connect; Walk in Complaints or Letter: Director, Regulatory compliance division, 4th floor FSSAI. FDA bhawan, Kotla road, New Delhi - 110002.
For complaints on misleading advertisements related to food and beverages, the Department of Consumer Affairs launched a web based portal - GAMA (Grievances against Misleading Advertisements). 
Be cautious of unrealistic claims: Exercise caution when encountering exaggerated health claims or promises that seem too good to be true. Verify the authenticity of such claims through reliable sources.
Ensuring regulatory compliance when purchasing edible items online is crucial for the safety and well-being of consumers. By following a few key steps, consumers can protect themselves and make informed decisions. It is important that consumers are educated on the pros and cons of online shopping, as priority. It will ensure that expanding online businesses operate as responsible vendors, and remain accountable to consumers.